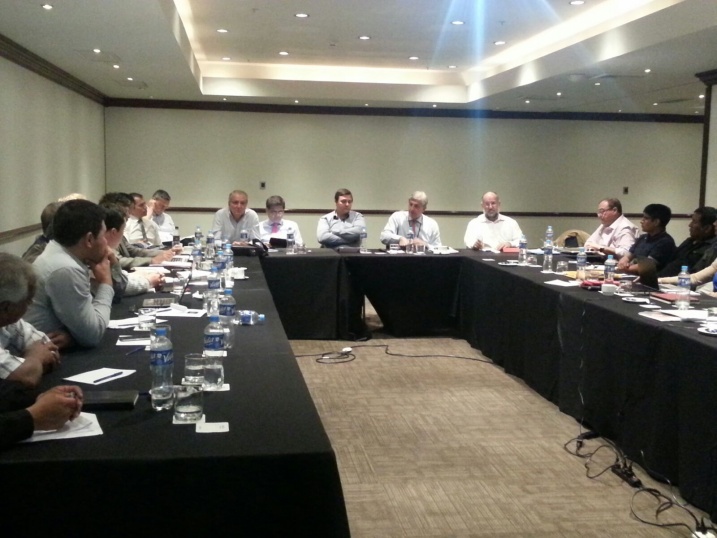 The network's scope has broadened since Repsol acquired Canadian energy company Talisman in May 2015.



Repsol network meets in Peru
22.10.2015
The Repsol trade union network met in Lima, Pefu from 19 to 21 October 2015 against the backdrop of news that the Spanish oil company is to cut 1,500 jobs worldwide.
The announcement was triggered by the low oil price. The company claims it can get by at US$45 a barrel, butlower than that divesting would have to be considered. About half of the jobs would be axed in Spain. The company promised that the cuts would be done responsibly over three years. The effects will be much worse on contract workers.
Peru is the country outside of Spain with the most direct workers. Nevertheless 70 per cent of the workers are contract workers. Repsol's health and safety record leaves a lot to be desired. Excessive hours can lead to accidents. And trade union unity in Peru is still a challenge. The Repsol network coordinator, Jenaro Prendes, from FITAG-UGT in Spain, recommended that network call a specific meeting for Peru to deal with the issue. Moreover, Peruvian workers have a hard time getting time off for trade union business, although the right exists on paper.
Repsol acquired Canadian oil and gas producer Talisman earlier in 2015 in an US$8 billion deal. The acquisition created a certain number of synergies. Now the company has three key regions - Latin America, North America and Southeast Asia. Projects will be cancelled in the next two or three years due to the synergies and especially the low crude oil price.
The company presented the strategic plan until 2020 as well as the sustainability program. Repsol is one of the oil companies that does the most for corporate social responsibility (CSR). Still, says Prendes, "CSR cannot just be unilateral action by the company, but rather it should be a joint commitment."
IndustriALL explained the importance of the GFA's and networks in the energy sector. The Repsol network is one of the tools of IndustriALL's strategic goals to confront global capital to enable trade unions to articulate solutions. It makes it possible to contemplate joint action to achieve sustainable development for the company and the workers.
The network should perform certain functions, such as following how the strategic plan is implemented, how the reorganization is carried out, and how the job cuts are managed.
In addition, especially in the Latin America region, there should be a role for the network to play in connection with indigenous peoples because Repsol's operations affect them.
IndustriALL affiliates from Spain, Peru, Colombia and Bolivia attended the network meeting and will carry on the work between meetings. Isidor Boix, founding member of the Repsol network, commented: "Repsol is a different company from when we founded the network, now it is a global company, and we need a global network, especially after the addition of Talisman."