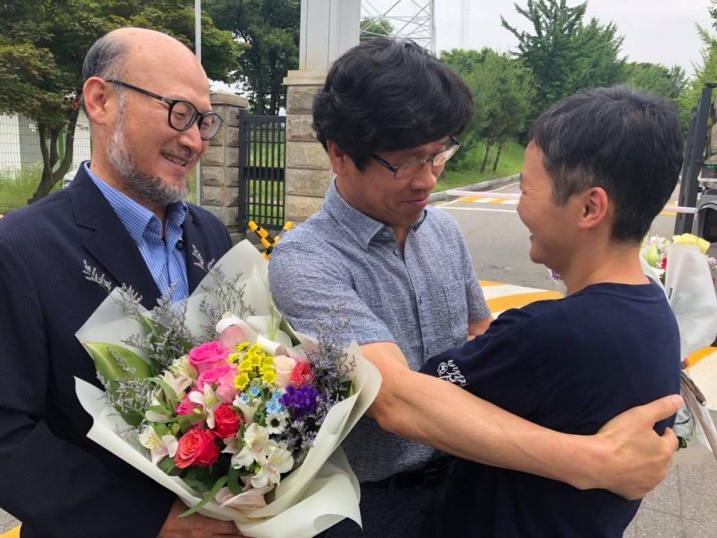 Han Sang-gyun, the former -president of the Korean Confederation of Trade Unions and Cho Chang-ik, president of the Korean Teachers and Education Workers' Union welcomed Sister Lee Young-joo in front of the Seoul Detention Centre, photo from KCTU Facebook page

Korean union leader Lee Young-joo released!
14.06.2018
Sister Lee Young-joo, former general secretary of the Korean Confederation of Trade Unions, has been released from prison on suspended sentence on the morning of 14 June 2018. She has spent almost six months in the Seoul Detention Centre.
Although Lee has been set free, at her trial on 12 June, Lee was found guilty on all charges. Judges convicted her to three years in prison, with four years of suspended sentence, and a fine of 500,000 KRW (US460$) for organizing the People's Mass Mobilization rally on 14 November 2015. The prosecutor claimed the demonstration blocked traffic and 100,000 demonstrators didn't disperse and obstructed execution of official duties, with some demonstrators resisting riot police water cannons and crackdown on public demonstration.
The mobilization was against repressive labour reform and became the catalyst of the mass movement in Korea resulting in impeachment of the former Korean President Park Geun-hye, who is now serving 24 years sentence by irony in the same detention centre, where trade union leaders were detained.
Although the new government of President Moon calls itself a "government of candlelight" and has promised to respect the labour movement, so far incarceration of the former Korean President did not automatically change Korean authorities' attitude towards trade union rights and freedoms.
Lee's colleague, Han Sang-gyun, KCTU president, was released in May this year having been imprisoned in December 2015.
The international trade union movement has continuously paid special attention to the situation of trade union rights in Korea. IndustriALL made a number of solidarity visits to the trade union leaders during their imprisonment. At the same time, IndustriALL jointly with ITUC and other global unions organized protests in solidarity with Korean trade unions.
Kemal Özkan, assistant general secretary comments:
"We celebrate the liberation of our Sister Lee Young-joo from prison. We are however saddened by the fact that the court did not drop all the charges against her. President Moon should pay special attention to this case and do everything in his power to put workers' interests high on the agenda in Korea."