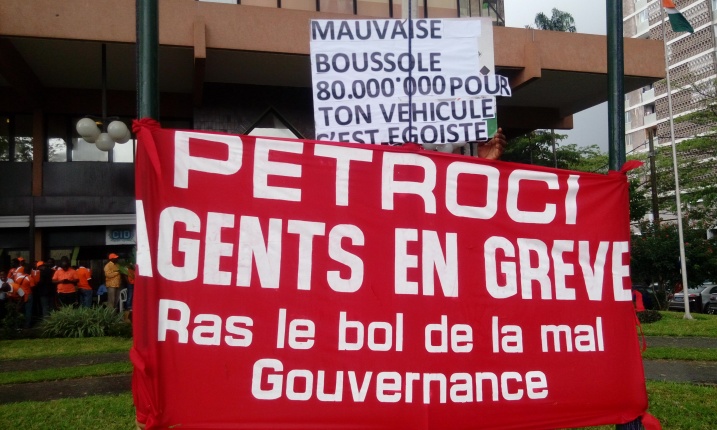 Petroci oil workers have agreed to the end the strike on condition their demands are dealt with urgently.



State oil workers strike in Ivory Coast
16.02.2017
Oil workers in the Ivory Coast have held a three-day strike in protest at the mismanagement of state-owned oil company, Petroci, and the withdrawal of workers' rights and benefits.
The workers, who are members of IndustriALL Global Union affiliate, SYNTEPCI, observed the three-day strike from 13 to 15 February and only voted to end industrial action on condition that their demands are attended to urgently.
Following the decision by union members to stop the strike, SYNTEPCI's general secretary, Jeremie Wondje, held talks with the Ivory Coast's new energy minister, Thierry Tonah, who requested time to personally deal with the issues.
SYNTEPCI represents 450 of Petroci's estimated 565 employees. The union has held many conciliatory meetings with labour inspectors since December last year when the CEO, Ibrahima Diaby, informed workers of his decision to take away their benefits, which include housing assistance, health insurance and complementary pension payments.
Strikers say Petroci has been badly run since Diaby was appointed CEO in 2015. They also accuse him of exploiting the company through travel on private jets, uncapped mission expenses, an order for a US$126,000 BMW luxury car, and his US$2.2 million 2016 pay packet.
Last year, Petroci retrenched 48 workers citing low oil prices.
It is estimated the state has lost more than US$4 million a day in oil revenues as a result of the Petroci strike. The country is in turmoil, particularly after civil servants observed a three-week strike this year for better social benefits.
At the same time, workers at Canadian National Resources (CNR), an offshore oil and gas exploration company operating in Ivory Coast, yesterday ended their strike that began on 8 February. They accuse CNR of breaking the country's labour code by hiring contract workers through agencies for lengthy periods, sometimes more than a decade, without ever making them permanent.
IndustriALL's director for Energy, Diana Junquera Curiel said: "SYNTEPCI has been successful in challenging Petroci before and shown that the company is not above the law. The workers have a right to their benefits and Petroci cannot and should not take them away."