17 May, 2019The signing of a collective bargaining agreement with Isuzu East Africa shows that wages and working conditions can be improved when unions and employers adopt a conciliatory approach to labour relations.
IndustriALL Global Union affiliate the Amalgamated Union of Kenya Metalworkers (AUKM) signed the agreement on 8 May, after five months of negotiations. The agreement strengthens a long history of cordial relations between Isuzu East Africa and AUKM, which contributes to building a harmonious relationship between unions and automotive companies. 
Isuzu East Africa employs 228 workers, of whom 27 are contract workers and only 13 are women — an issue that the AUKM is campaigning on by encouraging the employment of more women and creating a conducive environment for women workers.
According to the agreement, wages will be increased by 8 to 9.7 per cent, with a wage range from Kenya Shillings 51,560 to 85,329 (US $517 to $855). The increase will remove inequalities by closing wage gaps between different grades of workers doing similar work. Travel allowances will be increased by 8 per cent and housing allowances by 10 per cent. Other benefits that were increased include the shift allowance. The company also has a social security benefit of 20 per cent of the worker's wage that is paid by the employer.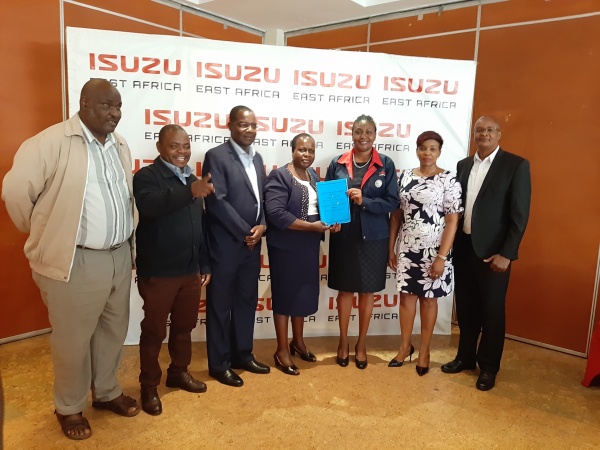 Rose Omamo, the general secretary of AUKM said:
"This is one of the best collective bargaining agreements that the parties have negotiated and comes from the good will and trust that we have built over time. Collective bargaining agreements are the backbone of a strong trade union and that is why we are happy when we sign them."
Paule-France Ndessomin, IndustriALL regional secretary for Sub Saharan Africa said:
"The signing of the collective bargaining agreement should be applauded because better working conditions improve the livelihoods of workers and their families. Improved benefits lead to living wages that we are campaigning for the automotive sector to pay."
Isuzu East Africa, formerly General Motors East Africa, manufactures light commercial vehicles. To attract local manufacturing and as part of industrialization efforts, the government of Kenya has introduced tariff exemptions to imports of vehicle components. The government is also giving first preference to locally assembled vehicles in its purchases as a boost to local manufacturing.