29 June, 2022The 2022 ITUC Global Rights Index is raising alarm over the shocking violations of workers fundamental rights that include the right to strike, to form and join a union, to register a union, and the right to collective bargaining. The right to justice is also being denied as well as freedoms of speech and assembly. In some countries workers are excluded from labour protection that is provided for in national laws and international labour standards.
The ITUC Index, launched online on 28 June under the theme - "Rebuilding trust with a new social contract" ­­– is an annual survey of 148 countries.
Based on the findings, the Index is stressing that trade unions must fight against the push back on workers fundamental rights by employers and governments as seen in murders of trade unionists, violent attacks, arbitrary arrests, and detentions. Human rights and civil liberties are also being violated.
 
The ITUC Index states that trade unionists were murdered in 13 countries: Bangladesh, Colombia, Ecuador, Eswatini, Guatemala, Haiti, India, Iraq, Italy, Lesotho, Myanmar, Philippines, and South Africa.
Further, harassment, arbitrary arrests and detentions took place in 69 countries with worst cases reported in Cambodia, Hong Kong, and Myanmar.
The worst violations of workers' rights occurred in the Middle East and North Africa while conflicts and coup d'états worsened the conditions for workers.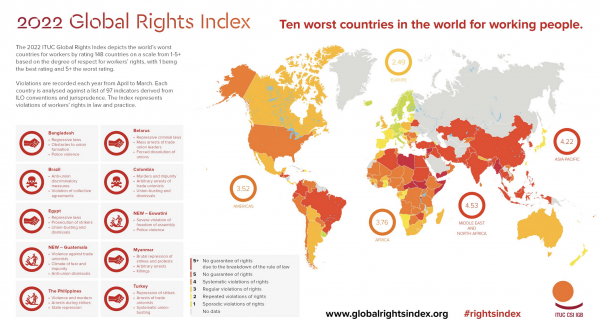 Additionally, restricted access to justice is also increasing in Africa with reported incidences rising from 76-95 per cent from 2021 to 2022. 
The world's 10 worst countries for workers identified in the Index are Bangladesh, Belarus, Brazil, Colombia, Egypt, Eswatini, Guatemala, Myanmar, the Philippines, and Turkey.
These countries are vicious against trade unions. They use regressive and repressive criminal laws, impede union formation, force unions to close, arbitrary and mass arrests of union leaders, anti-union discriminatory measures, union-busting and unfair dismissals of union leaders, violate collective agreements, murders and impunity, prosecution of strikers, violate freedom of assembly, police violence and brutal state repression of strikes and protests.
 
Several speakers narrated what is happening in their countries as confirmed by the ITUC Index.
Maung Maung from Myanmar said despite trade unionists having been killed, arrested, imprisoned, and harassed, "the revolution is holding on." However, most of the union leadership is in hiding or exile.
"The government of Brazil is hostile to trade unions and there is regression on workers' rights which are violated daily without limitation, especially against Black women workers,"
said Rosa Souza Fernandes.
 
Maksim Pazniakou said:
"There are unprecedented repressive measures in Belarus characterised by trumped up charges against union leaders. Further, the public prosecutor wants independent trade unions to be banned."
"There is hostility against trade unions and protesters including workers. Workers have been killed when state security forces used live bullets to disperse protesters,"
said Mduduzi Gina from Eswatini.
"It will take a new social contract with jobs, rights, social protection, just wages, equality, and inclusion to rebuild the trust that has been shattered by repressive governments and abusive companies. The social contract has been torn apart. But together we can write a new one,"
said Sharan Burrow, ITUC general secretary.
She said the new social contract must address precarious work, job creation and the Just Transition. Further, the social contract must find solutions to the high inequality, climate emergency, and the post-Covid 19 economic downturn.
"IndustriALL Global Union welcomes the ITUC Global Rights Index, which mirrors our campaigns against the gross violations of human and workers' rights in Myanmar, the arbitrary arrests and imprisonment of trade union leaders in Belarus, and the use of violence against striking workers in Bangladesh and Eswatini.

"It is tragic to see that the situation for workers is worsening in country after country. Unions must be firm in their fight back, and IndustriALL will stand with our affiliates to win back the rights that have been taken from us, and to win new ones,"
says Atle Høie, IndustriALL general secretary.
The ITUC Global Rights Index has 97 indicators, derived from ILO fundamental rights at work, especially Convention 87 (freedom of association and protection of the right to organize) and Convention 98 (right to organize and collective bargaining), as well as international human rights law. The current report is for the period March 2021 to April 2022.