1 November, 2019On 29 October, demonstrators in New York City called on major sports brand Adidas to join ACT, the global initiative on living wages. By refusing to join ACT, Adidas is effectively standing in the way of progress towards  a living wage for garment workers.
Workers in the Adidas supply chain are urging the company to follow other global brands, like Zara, H&M and Tommy Hilfiger, and commit to ACT so that they can earn a living wage.
At the rally outside the Adidas flagship store in New York City, around 40 trade unionists called on the sports brand to help reform the industry and stop producing products through poverty wages.
"We are demonstrating here today in solidarity with garment workers in Cambodia and Myanmar and to tell Adidas to get off the sidelines and join ACT, the global initiative on living wages,"
said Albert Arroyo, vice president of Workers United, the union that organized the rally.
"If 20 global companies can sign on to ACT, so can Adidas."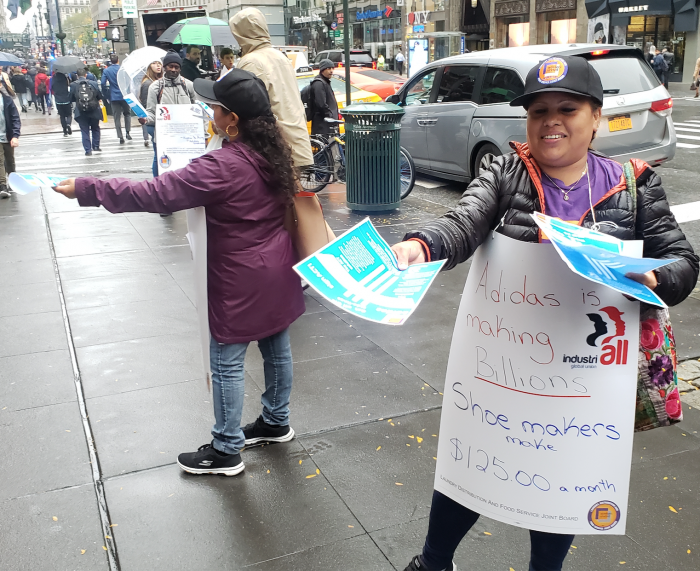 Union representatives tried to hand over a letter to store managers, explaining what Adidas is being called on to do, but they were prevented by security guards from entering the store. The store managers refused to accept the letter from the union.  
"Suppliers in countries like Cambodia, Myanmar and Vietnam need to know that big brands, including Adidas, are on board,"
says Christina Hajagos Clausen, IndustriALL garment director.
"Adidas needs to step off the sidelines and team up with ACT brands to get real results for garment workers."
ACT (Action, Collaboration, Transformation) is a ground-breaking agreement between 20 global brands and IndustriALL global union to achieve living wages for workers in the garment sector.
ACT member brands agree to incorporate higher wages into the prices they pay to suppliers to support sectoral collective bargaining towards living wages. They have committed to changing the way that they do business in their supply chains and have agreed to be held accountable for this by trade unions. Adidas should do the same.