13 October, 2020The IndustriALL trade union networks of BASF workers in Asia and Latin America are advancing towards stronger dialogue with the company. The world's largest chemicals company, BASF, employs members of IndustriALL affiliated unions on all continents. While strong regional union structures are in place in Europe and the Americas, now the Asia-Pacific regional group is becoming equally mature, well-organized, and seeking an official relationship with regional management.
Several international BASF trade union meetings were conducted digitally in recent weeks. Unions in Asia-Pacific came together, with IndustriALL, German union IG BCE, and the coordinator of the Latin American network of BASF unions. This group includes BASF unions from India, Indonesia, Malaysia, Korea, Australia, Singapore and Vietnam, and has grown in recent years through a project by IndustriALL and German social rights organization FES.
A powerful network of BASF unions in Asia Pacific completes a global picture of coordination and mutual support between all unionized BASF employees. Now the unions seek to continue growing their structure, and are now ready to start regional dialogue with management in a coordinated way.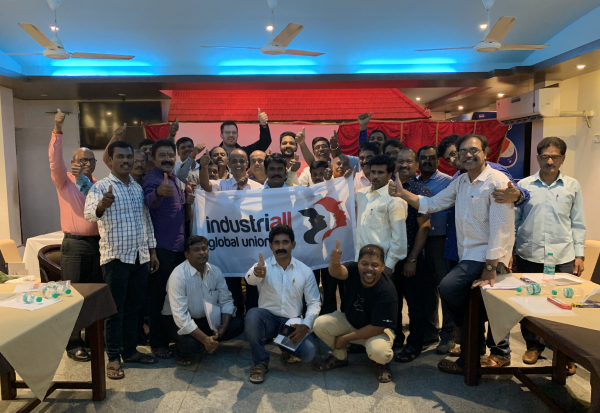 The Latin American BASF trade union network is a long-established structure that has maintained official social dialogue with the company for 20 years.
The coronavirus pushed the 2020 meetings online also in Latin America, with both union networks and dialogue sessions being held at regional and national levels. The union and company response to coronavirus were addressed, as well as the issue of job cuts in Argentina and Peru, gender issues, environmental impact, and responding to increasing digitalization in production.
Michael Wolters represented the largest BASF union, IG BCE in recent meetings:
"Cementing the communication channels in and between the regions strengthens unions throughout the BASF operations. The BASF network in Latin America stands as a model to be replicated at other companies. Now it is clear that the Asian colleagues are functioning to a high standard also."
Thiago Rios, coordinator of the IndustriALL Latin American BASF Union Network said:
"We must face our challenges together, combining our strength in the different regions into a global network of BASF workers. We cannot accept so much difference in conditions of BASF workers from one place to another."
IndustriALL chemicals director Tom Grinter said:
"This networking effort is beneficial to all BASF workers. The rank and file members are the owners of our organization, and we must continue to make a difference for them, especially at this time of crisis. We expect BASF to recognize the Asia Pacific union network as a dialogue partner."
Photo caption: IndustriALL participated at the BASF regional dialogue and celebration of 20 years of regional BASF union networking and dialogue with the company in November 2019, in Sao Paulo.