8 December, 2022This year, the Nobel Peace Prize is awarded to a jailed human rights defender from Belarus, a country that has violated a number of core fundamental rights and freedoms for decades.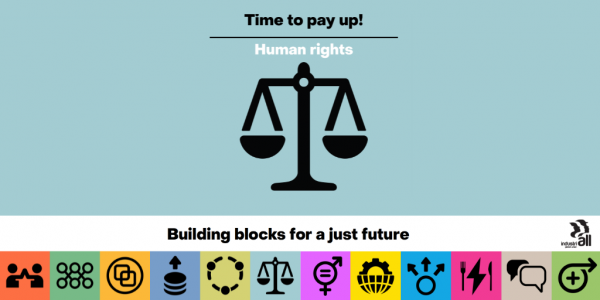 The list of violated rights and freedoms includes the freedom of opinion and expression, freedom of peaceful assembly and association, right to form and to join trade unions for the protection of interests, right to be entitled to a fair and public hearing by an independent and impartial tribunal.
The Nobel Peace Prize 2022 was awarded to Ales Bialiatski, who has worked to promote human rights and democracy in Belarus since the 1980s. He won't be able to attend the award ceremony in Oslo, Norway, on 10 December, as he has been in prison since July 2021.  
Since 1901, the Nobel Prizes have been presented to Nobel Prize laureates at ceremonies on 10 December, the anniversary of Alfred Nobel's death.
Also, Human Rights Day is observed every year on 10 December, the day the UN General Assembly adopted the Universal Declaration of Human Rights in 1948.
Ales Bialiatski founded the human rights group Viasna (which means spring) in 1996, after the constitutional amendment that gave President Alexander Lukashenko dictatorial powers, triggering mass protests. Viasna provided help for jailed protesters and their families. Over decades, the organization has also documented the authorities' abuse against and torture of political prisoners. Its main goal is to contribute to development of the civic society in Belarus, based on respect for human rights.
Authorities have been trying to silence Ales Bialiatski for his work. In 2011, he was jailed for three years for alleged tax evasion. In July 2021, in the wake of the mass protests against Lukashenko's dictatorship that broke out after the presidential election in August 2020, Ales Bialiatski was again jailed, this time without trial or conviction.
Ales Bialiatski shares the the Nobel Peace Prize 2022 with Memorial from Russia and Center for Civil Liberties from Ukraine.
As of today, there are 1,441 political prisoners in Belarus according to Viasna and the number is growing.
The ITUC Global Rights Index 2022 ranks Belarus among the ten worst countries for working people due to repressive criminal laws, mass arrests of trade union leaders and forced dissolution of unions.
On 18 July, the Supreme Court decided to liquidate and dissolve the Belarusian Congress of Democratic Trade Unions (BKDP), and its four members, three of them affiliated to IndustriALL - the Belarusian Independent Trade Union (BITU or BNP), the Union of Radio and Electronics Workers (REP) and the Free Trade Union of Metalworkers (SPM), as well as the Free Trade Union of Belarus (SPB).
Mass detention of leaders and activists of the Belarusian Congress of Democratic Trade Unions (BKDP) and affiliated unions for exercising their legitimate right to freedom of association took place on 19 April. The majority of the arrested unionists remain in custody. Some have been already sentenced to lengthy prison terms or restriction of freedom without imprisonment, while other trials are about to start.
Aliaksandr Yarashuk, BKDP chairperson, Siarhei Antusevich, BKDP vice-chairperson, and Iryna But-Husaim, BKDP media team officer and book-keeper, have been held in a pre-trial detention center since 19 April, the trial is scheduled to start on 20 December.
Aliaksandr Mishuk, BITU vice-chairperson at JSC Belaruskali, was sentenced to 2,5 years in prison on 15 November. Andrey Khanevitch, BITU local chair at Hrodno Azot, was sentenced to five years in prison on 16 November. Ihar Povarau and Yauhen Hovar, BITU activists at Belarusian Metallurgical Plant, BMZ, were sentenced to three years and 2,5 years in prison respectively for an attempted warning strike in August 2020.
The trial of Vasil Berasnieu, acting REP chairperson, Hennadz Fiadynich, REP vice-chairperson, and Vatslau Areshka, REP activist, started on 25 November. They have been held in a pre-trial detention center since 19 April. Zinaida Mikhniuk, REP deputy chairperson, was arrested on 25 March, charged with insulting the President and sentenced to two years in prison.
Yanina Malash, SPM deputy chairperson and organizer, was sentenced to 1,5 years in prison on 14 November. Artsiom Zhernak, SPM chairperson at Minsk automobile plant, was arrested on 17 November 2021 and sentenced to four years in prison. Vitali Chychmarou, SPM council member and labour inspector, Mikhail Hromau, SPM сouncil secretary, and Miraslau Sabchuk, SPM activist, were arrested on 19 April and recently sentenced to three years, 2.5 years and 1.5 years of restriction of freedom without imprisonment respectively.
IndustriALL Executive Committee adopted a resolution on Belarus in November:
condemns the Supreme Court decision to liquidate the independent trade unions and does not recognize this court decision;
denounces the continued persecution of independent union leaders, activists and members;
demands that the trade union leaders and activists remaining in prison be released immediately and all charges against them be dropped;
announces that BITU-BNP, REP and SPM continue to be member of IndustriALL;
expresses solidarity with the independent Belarusian labour movement;
commits IndustriALL to continue to assist and fully support the independent trade unions in Belarus to guarantee their organizational continuity and integrity;
calls on IndustriALL affiliates to continue to provide active solidarity support to the democratic Belarusian labour movement, and the independent unions.
LabourStart has launched a new campaign calling for the immediate release of jailed unionists in Belarus, please sign and share it.