23 September, 2020The Collective Union of Movement of Workers (CUMW) has gained another victory in their fight for reinstatement of the 724 garment workers that were dismissed at Youli International in June, after a local union leader and a pregnant worker were reinstated on 21 September.
CUMW mobilized workers and protested at the Shandong Sunshell (Svay Rieng) special economic zone on 14 August. The provincial labour department then called for a mediation meeting between Youli management and the union, and the two workers were reinstated on 21 September.
There are incessant international and national campaigns for the reinstatement of the 724 garment workers dismissed in June. In a first victory in July, the union managed to get Youli to reinstate 11 pregnant workers and a local union leader.
IndustriALL general secretary Valter Sanches has written to the company, urging them to reinstate all 724 workers and to stop hiring new workers after the mass terminations.
Pav Sina, CUMW president, says:
"International solidarity has been important for the reinstatement of our members and local union leaders at Youli. The company has promised to continue negotiations for the remaining 712 workers, and we will monitor it closely. We will continue to fight for workers' rights together with IndustriALL."
On 4 September, IndustriALL called for a global day of action to end union busting in the garment industry. The response was great, and many people chose to call on Youli specifically to stop union busting.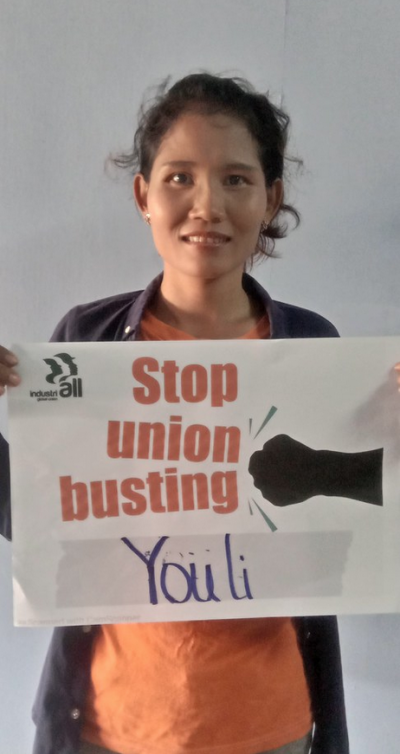 Christina Hajagos-Clausen, IndustriALL textile director, says:
"This is an important union victory and we congratulate CUMW on the success."