9 June, 2022Workers at Caterpillar sites in Northern Ireland have been on strike for nine weeks over decent pay. The US mechanical engineering giant is reporting huge profits while the workers, creating the very foundation for this wealth, have to choose between heating or eating in the midst of the current cost of living crisis.
The current increase of the cost of living in the United Kingdom stands at 11.1 per cent and is likely to increase even further. Caterpillar's offer of salary increases of 2.6 per cent in 2021 and 6.4 per cent this year, are below inflation and was overwhelmingly rejected by the union members. The company has also attempted to tie a basic pay increase to the introduction of compulsory overtime.
IndustriALL affiliate, Unite the Union, represents the Caterpillar workers in Northern Ireland. Senior union representative Paula Hurst says:
"Caterpillar want to drive down wages and increase working hours, this model of compulsory overtime is on the back of making 700 workers redundant, including 400 hourly paid skilled workers in 2020/2021. Unite rejects any attempt to tie a basic pay increase to the introduction of compulsory overtime. With the cost of living rising and only likely to rise further, workers are striking to win a fair pay increase."
Unite has lodged a complaint with the Agency Inspectorate due to Caterpillar deploying union busting tactics by commissioning untrained scab labour from sites in the UK (office workers) and paying them a bounty.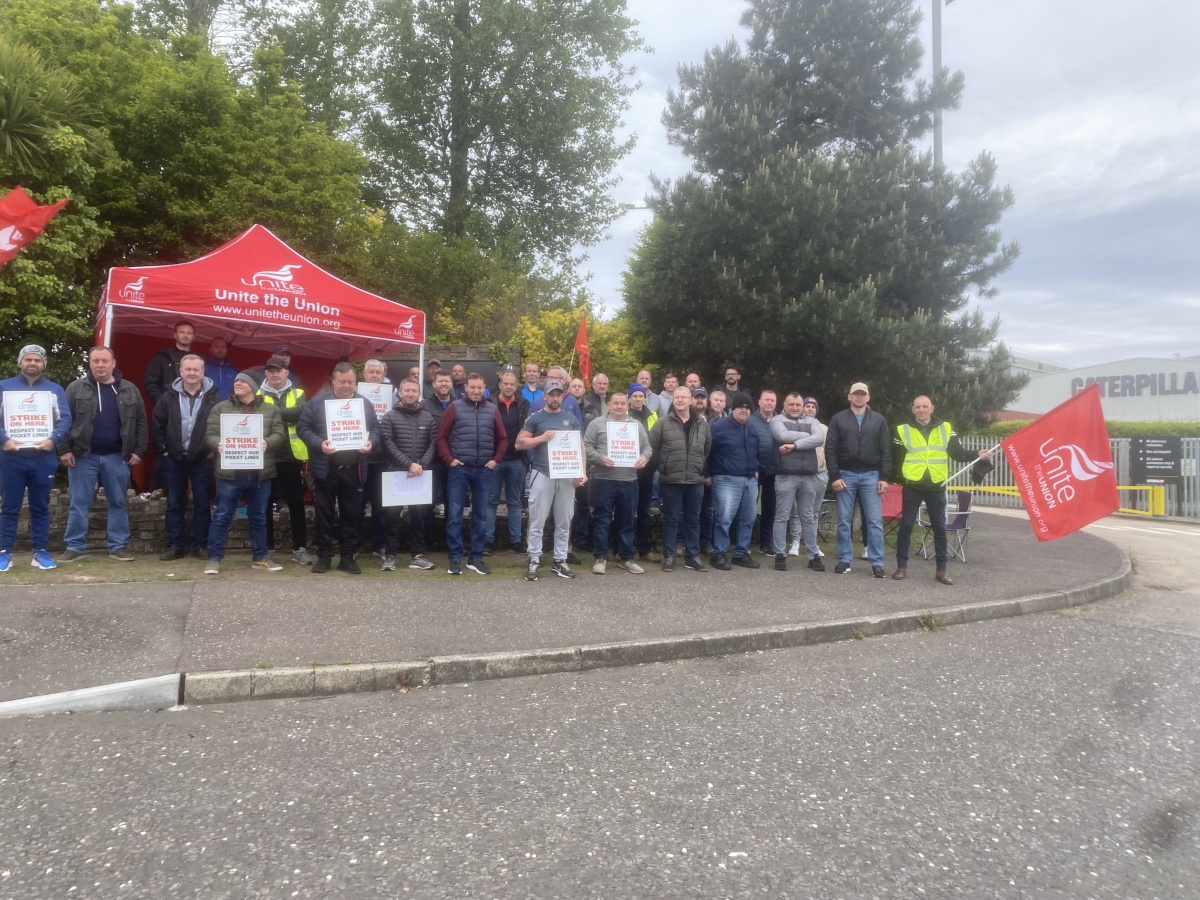 The company management have refused to sit down with the union to resolve the dispute, despite requests from Unite and the Labour Relations Agency (ACAS).
Says Matthias Hartwich, IndustriALL director for mechanical engineering:
"We have seen it before in other countries – Caterpillar is again failing to respect its workers. It is always the same; management makes decisions without consulting the workers.
 
"We urge the Caterpillar management to come back to the table and enter into real negotiations over wages and working conditions. Collective bargaining in good faith is different from making one-sided announcements. It means sitting down with respect for each other and finding a compromise that helps workers, their families as well as the company."