15 October, 2020As the strike at the Cerrejón mine in Colombia is approaching 50 days, civil, social and union organizations marched in solidarity with the workers and the union, Sintracarbón.
On 9 October, dozens of people marched peacefully through the streets of Riohacha, capital of the Guajira region, to show community support for the strike by IndustriALL affiliate Sintracarbón.
Workers in the Cerrejón mine went on strike when talks with the employer collapsed after the union rejected a shift change that would add 72 working days per year without any pay increase.
"The march was a way for the community and workers to let both Cerrejón and the governor of La Guajira, who remains silent in the face of the conflict, know that we are taking action and ready to negotiate.

We have always said that we want dialogue and that the strike is merely a tool. The union wants reach an agreement that is beneficial for La Guajira and the workers, and that allows the company to restart production,"
says Sintracarbón president, Igor Díaz.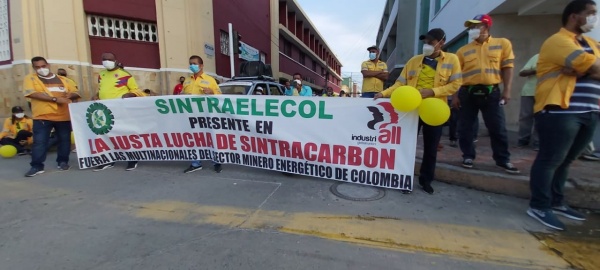 A week ago, a roadmap proposed by the Ministry of Labour was launched. Both the union and the company have met individually with the labour authorities. The next step is announced to be a tripartite discussion, but Sintrcarbón says that details have yet to be communicated.
"So far, Cerrejón has refused to come to the negotiation table and we don't know how the employer feels about a tripartite meeting. We hope there is a will to find an agreement, which both the country and especially Guajira, needs,"
says Igor Dias.
IndustriALL has contacted the three mining companies more than once to demand that they take responsibility for this crisis. IndustriALL has also informed Cerrejón's clients and institutional investors about the situation.
IndustriALL regional secretary Marino Vani said:
"We appeal to the company, who is earning money off the land, not to abuse its economic power and to do its part in finding an acceptable and dignified solution through dialogue. IndustriALL is standing in solidarity with the continued fight."
If you haven't already, please sign and share the LabourStart campaign to show support for Sintracarbón.