18 August, 2020With the Covid-19 pandemic, the importance of occupational health and safety has returned to the union priority list, and the role of health and safety reps is being re-emphasized.
These are some of the issues that were discussed during a virtual workshop on health and safety under Covid-19, held on 11 August. Leaders and shop stewards from IndustriALL Global Union affiliate SINTIME participated in the meeting. SINTIME organizes workers in the mining and base metals sector in Mozambique, including at South32 - a demerged mining and metals multinational created in 2014 by BHP Billiton.
The workshop emphasized the importance of International Labour Organization Convention 176 on health and safety in the mines, the right to refuse dangerous work, and how unions can use collective bargaining agreements to deal with Covid-19 at the workplace.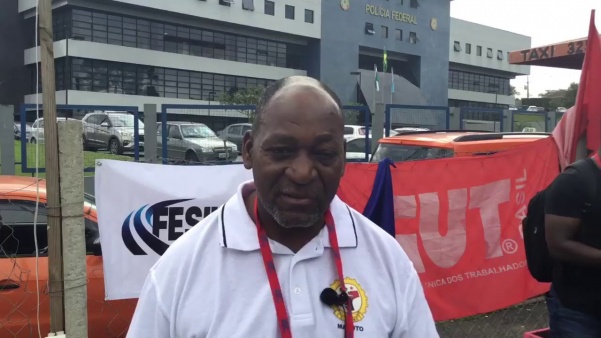 Americo Pedro Macamo, SINTIME general secretary said:
"Workers are heeding the calls and adhering to government regulations on the state of emergency and production is at one third capacity. The union has successfully negotiated with companies not to dismiss workers and there have been no retrenchments or job losses."
Brian Kohler, IndustriALL director for health and safety said:
"Unions should continue demanding workers' rights to occupational health and safety through full knowledge of hazards and how to work safely. Additionally, workers demand the right to refuse or shut down unsafe work without fear of discipline or discharge; and to participate in the development and implementation of all health and safety policies, programmes, procedures, hazard and risk assessments, accident and incident investigations, workplace inspections and audits. These rights must be fought for."
Further, the workshop concurred on the importance of knowing some of the ways in which multinational mining and commodity companies like BHP organize their businesses. For instance, knowledge of the global value chain approach is critical as it shows linkages to different production sectors in which multinational companies are involved such as oil and gas, fertilizer manufacturing and commodity trading. Trade unions must know how low-cost and long-term assets models exploit workers through precarious working conditions of short contracts, low pay, and dangerous work.
With BHP Billiton Holdings having demerged South32 in 2014, it was recommended that the IndustriALL BHP Billiton network should consider including the company in its campaign activities to consider BHP's environmental, social and governance legacies that still remain with South32.
South32 owns 47.1 per cent of Mozal Aluminium, with other shareholders Mitsubishi Corporation Metals Holding with 25 per cent, Industrial Development Corporation South Africa 24 per cent, and the government of Mozambique 3.9 per cent.
Glen Mpufane, IndustriALL mining director said:
"Knowing the value chain dynamics allow unions to engage more effectively on health and safety and Covid-19 protocols through sharing of joint strategies and campaigns. For example, the BHP Billiton network brings together workers solidarity from Latin America, Southern Africa, and Australia. The formation of a South32 global network seems a very practical approach to dealing with the challenges workers experience across South32's operations globally where violations occur."
Image credit: Mozal Aluminium, South32