17 September, 2020From 1 July 2019 to 30 June 2020, at least 53 electricity workers were killed at work, and many suffered severe injuries disabling them for life. And the day before a national safety day to remember the dead and promote safety, another fatal accident occurred.
Workers in electricity sector are faced with challenging working conditions to ensure that 27 million consumers in Pakistan receive electricity. On 16 September, workers from Pakistan Water and Power Development Authority (WAPDA) and several power distribution companies all over Pakistan, observed a safety day.
IndustriALL affiliate, All Pakistan WAPDA Hydro Electric Workers Union (APWHEWU), held the safety day to create awareness and promote a safety culture among field staff. They union discussed ways to prevent workplace accidents to ensure that the line staff work with the appropriate safety measures.
Khurshid Ahmed, APWHEWU general secretary, said:
"Electricity workers are risking their lives to provide electricity across the country and they should not work in unsafe conditions. Pakistan has witnessed a massive rise in electricity work, but the sector faces serious shortage of staff due to the government-imposed ban on recruitment of new staff, and retired staff are not replaced. The Ministry of Energy should fill the vacant posts. We also demand an end to the contract and daily workers system and instead make them regular workers, in both public and private companies. This would go a long way in improving safety.

"The government of Pakistan should reform the distribution companies to raise their operational efficiency and safety measures with the cooperation with workers, but should refrain from privatization."
The APWHEWU says that given the steeply rising prices of essential commodities, the government should increase wages and pensions of those working in the public sector. The government should work with workers' organizations to resolve the issues raised under the ILO Tripartite Consultation Convention 144, ratified by the government.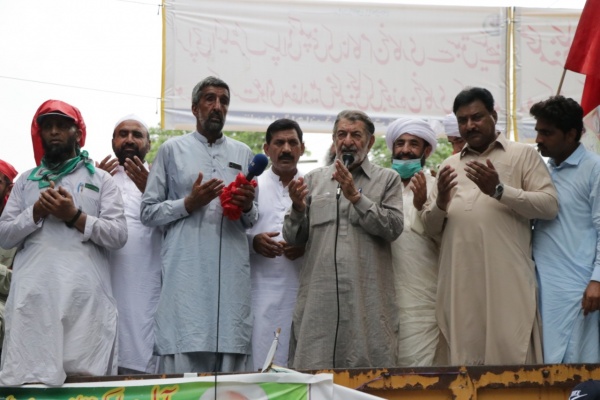 In his solidarity message, IndustriALL general secretary Valter Sanches, said:
"It is shocking to note that large number of workers continue to become victims of accidents. Workers should be informed and trained to handle hazardous work and they should have the right to refuse unsafe work.

"Management should take responsibility to improve safety, while involving the workforce in the decision-making process. IndustriALL Global Union will support its affiliate, APWHEWU in its efforts to improve workplace safety."