30 September, 2020Demonstrations on 29 and 23 September, brought thousands to the streets of Hannover and Aachen as IndustriALL affiliates IG Metall and IG BCE protested against Continental's decision to close plants in Germany. The tyre and auto parts giant plans to slash up to 13,000 jobs in the country, starting with 1,800 in Aachen.
Continental says that a combination of low vehicle production and economic crisis caused by the pandemic is behind the announced cuts. In total, Continental plans to cut 13,000 jobs in Germany, adding up to 30,000 globally to be "modified, relocated or made redundant".
German unions IG BCE and IG Metall say that the reasons for the surprise announcement are not true, calling it "cutting for the sake of cutting".
In response to Continental's announcement to close the factory in Aachen by end of 2021, thousands protested in the city on 23 September, wearing masks and keeping safe distances.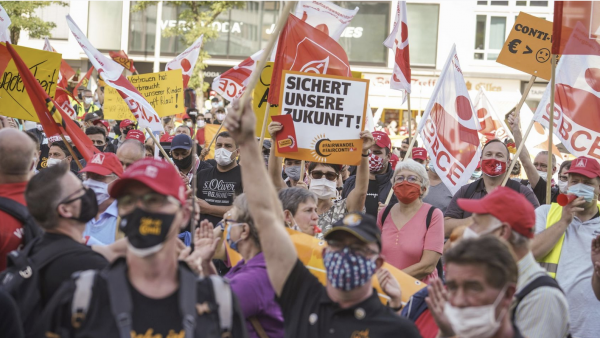 On 29 September, 2,000 people demonstrated in front of the building where Continental's supervisory board was meeting in Hannover.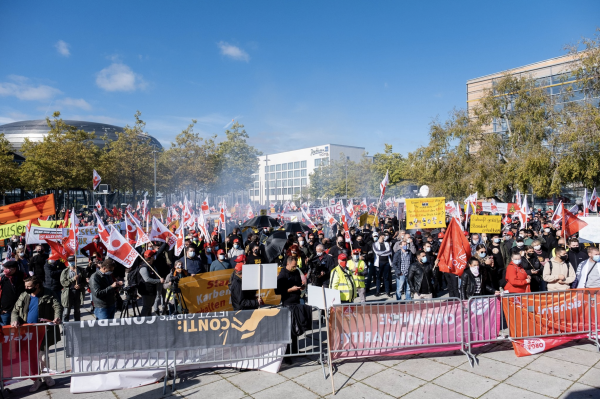 IG BCE president Michael Vassiliadis addressed the protestors:
"This is a case of a German company deciding to leave the path of solidarity and social responsibility that has so far guided us through this crisis, without considering the futures of people and communities affected. The owners must end this attack on staff and pave the way for intelligent alternatives."
IG Metall and IndustriALL president Jörg Hofmann, says:
"It is scandalous for a company to receive tax-financed support while taking advantage of the crisis to relocate work to low-wage countries. The longer the crisis continues, the more pressure there will be on employment. However, companies should invest in research and development to be able to adapt to decarbonization and digitization."
The works council at Continental has launched a petition, demanding that the announced layoffs are suspended until negotiations with the unions have been finalized. The unions reiterate that job security and sustainable prospects for all employees remain their top priority, asking for a seat at the table in the coming decisions.
"As employee representatives, we have repeatedly demonstrated a willingness to find solutions and creativity in the interests of both the employees and the company," says the works council.
IndustriALL assistant general secretary Kemal Özkan says that the global union shares the joint anger of its two German affiliates:
"The announcement of Continental to close the Aachen site and to cut 30,000 jobs worldwide, including 13,000 in Germany, is a betrayal. The German state is providing significant support to companies during the Covid crisis, so for companies to take the opportunity to relocate jobs to low-wage countries is absolutely unacceptable."