18 July, 2019Union leaders representing workers at worldwide operations of both Deere & Company and Caterpillar repeated their call on the multinational machinery-makers to engage in social dialogue on a global level at meetings in Detroit, USA.
Over 40 delegates from 10 countries convened for joint and individual IndustriALL Global Union meetings from 10 to 12 July to exchange experiences, improve dialogue and develop global solidarity.
The first day was dedicated to the Deere & Co union network, and the company's Senior Vice President and Chief Administrative Officer, Marc Howze, introduced Deere's concept of social relations and strategy.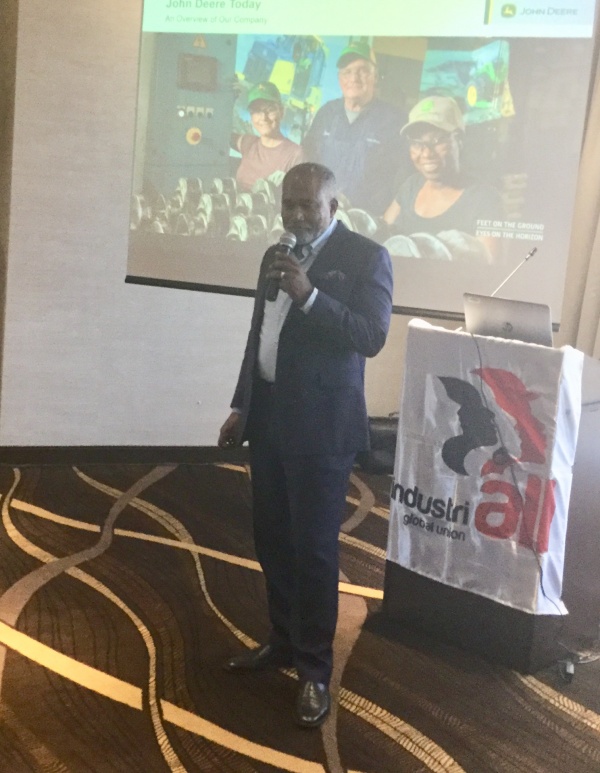 Representatives from Deere's European Works Council shared their experiences of social dialogue on a European level, and delegates adopted a plan to better coordinate their work and strengthen the Deere network. 
IndustriALL director for mechanical engineering, Matthias Hartwich, said:
"We want Deere to create an official dialogue between management and IndustriALL Global Union, preferably with a global framework agreement."
Ray Curry, the host union UAW's secretary treasurer and director of the agricultural implement department, opened the second day of the meeting. He said:
"The mechanical sector global networks provide a great opportunity for an exchange with colleagues from various global locations of both companies. The coordination of our trade union efforts provide recognizable assistance to every worker in Deere and Caterpillar. Our ultimate and attainable goal is to improve the working and living conditions for the workers and their families. The UAW will continue to support and drive the efforts to create global solidarity among workers in all agricultural implement, construction and mining machinery sectors."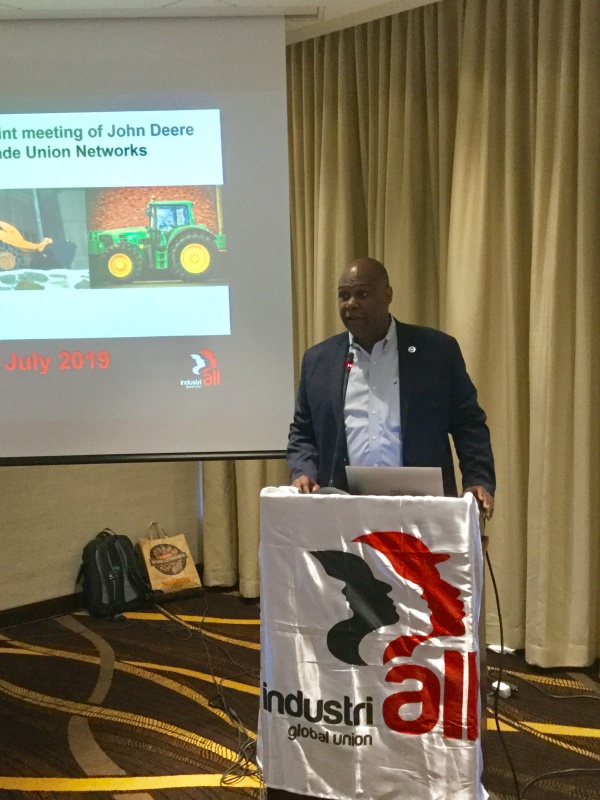 Speaking at the meeting, IndustriALL's assistant general secretary, Kemal Özkan, said:
"Trade union networks, like the ones at Deere and Caterpillar, are not a means in themselves; we need them as drivers of better working and living conditions for employees of the respective companies. If companies are willing to enter into dialogue, we are always open. But if they don't respect fundamental rights of workers, then only remaining option for us to  campaign."
In the joint meeting of both networks, participants underlined the importance of the exchange of information and experience as there are common issues across borders and across companies. The meeting discussed the opportunities and challenges of digitalization in the mechanical engineering industries, which require strong trade union coordination across the borders if workers are to get a share of wealth.   
At Caterpillar, employees have suffered many setbacks in recent years.  Radical restructuring in the company's operations resulted in over 10,000 redundancies with several plant closures, showing that exchange and cooperation between trade unions is crucial. Caterpillar European Works Council members described the difficulties in getting proper information and having consultation with company management. Participants expressed their appreciation and commitment for the network newsletter as an important tool of communication. 
At the end of the meeting, attendees agreed to improve communication in-between meetings, which will be determined by the steering committees.     
Matthias Hartwich summarized:
"The issue of communication, that came up time and again in the meetings, is a serious call for us to strengthen the capacity of the trade union networks to interact and exchange information."
Deere & Co manufactures agricultural, construction, and forestry machinery, employing more than 60,000 workers worldwide.
Caterpillar is the world's largest construction equipment manufacturer with more than 100,000 workers. Both corporations are American.
See more photos of the meeting on flickr.