25 March, 2022IndustriALL Global Union, UNI Global Union and the Building and Wood Workers' International have written to UPM shareholders and investors ahead of the annual general meeting on 29 March to warn that the company's anti-union stance is an investment risk.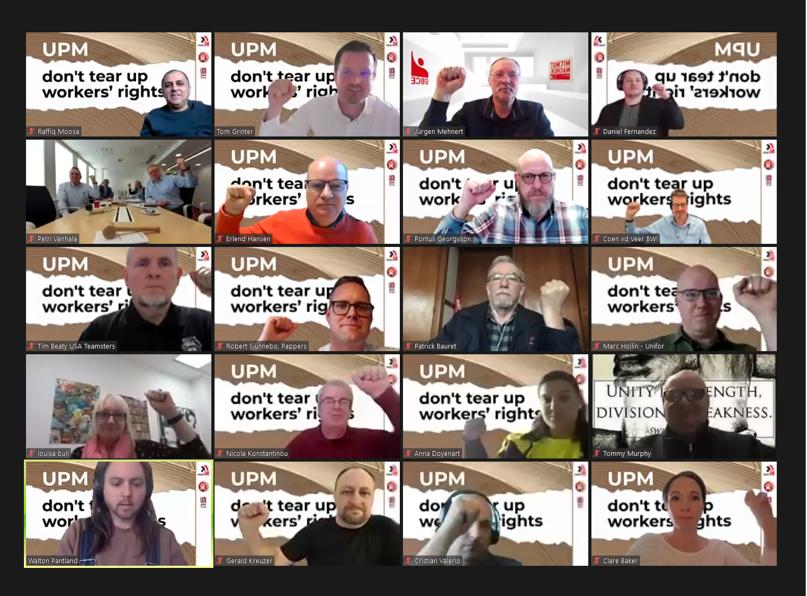 The letter, sent on 25 March to the company's 20 biggest shareholders, warns that an ideological attack on trade union rights by UPM management has escalated to the extent that it threatens the long-term reputation of the company.
Workers at all UPM sites in Finland have been on strike since 1 January against plans by UPM to demand more work without an increase in pay, break decades of collective bargaining practice, and deny sections of the workforce – represented by IndustriALL affiliate Ammattiliitto Pro (Trade Union Pro) - the right to union representation.
The strike is costing the company an estimated €20 million per week, and is forcing it to break its contractual obligations to its customers. UPM is claiming force majeure due to the strike, in an attempt to evade its responsibilities. However, the letter warns that in a 2021 judgement, the European Court of Justice ruled that force majeure was not applicable in cases of legal industrial action.
Unions representing workers at UPM's customers are writing to their employers advising them to reject UPM's claim of force majeure and hold the company liable.
The strike by Paperiliitto (Paper Workers' Union) has been extended until at least 16 April. Teollisuusliitto (Industrial Union) - which also organizes at UPM but is not currently on strike - has given €2.2 million to Paperiliitto's already substantial strike fund. The unions, which are affiliated to IndustriALL, believe they have the resources to resist the company attack.
IndustriALL director for the pulp and paper sector, Tom Grinter, said:
"This strike is rock solid. The level of international solidarity and support has been very impressive to see. This is an ill-considered, ideological assault on trade union rights. We have held a series of global meetings with paper unions from around the world, and they are all absolutely committed to ensuring the union prevails."
Photo: Paperiliitto