28 April, 2023ASSRGWA, affiliated to IndustriALL through SMEFI, in collaboration with ILO, is organizing a series of workshops on occupational health and safety and just transition in Alang's ship recycling and downstream industry in India.
Workers have a fundamental right to health and safety at work, and those employed in the ship recycling industry are among the most at risk of working in unsafe environments. Although the ratification of the Hong Kong Convention and the presence of a strong union in the region has changed a lot, much work remains.
The workshops aim to strengthen health and safety mechanisms in ship recycling yards. The workshops are attended by a large number of participants from various unions, including those working in the downstream shipbreaking industry, government bodies, as well as the employers' association.
IndustriALL assistant general secretary Kan Matsuzaki, says:
"These workshops are an important step towards establishing tripartite social dialogue to ensure safer and greener yards. IndustriALL congratulates ASSRGWA and ILO for taking the initiative."
Discussions centre on the steps necessary to keep yards safe and green, for instance, before starting to dismantle a ship, a thorough safety checklist needs to be prepared. More than 60 per cent of accidents happen in confined places that are dangerous due to a toxic atmosphere, oxygen deficiency and excessive heat. Working at heights also poses several safety-related challenges. Proper risk assessments to ensure that all risks associated with the hazards are evaluated and controlled are important. For example, the height and vertigo tests must be passed by a worker who works at heights. Additionally, while operating at heights, the supervisor's watch is crucial.
The importance of personal protective equipment (PPE) is discussed in detail. Full body protection, like chemical protective clothing is essential in the case of continuous or recurring exposure to hazardous surroundings. When entering a burning structure, firefighters must be equipped with body and skin personal protective equipment in the form of a full suit as well as breathing equipment. The duties and responsibilities of the health and safety committee at the workplace is also an important discussion point.
Vidyadhar Rane, ASSRGWA general secretary, says:
"We are glad that the government and employers are showing an active interest in this initiative. Our goal is to turn ship recycling yards into sustainable and safe workplaces."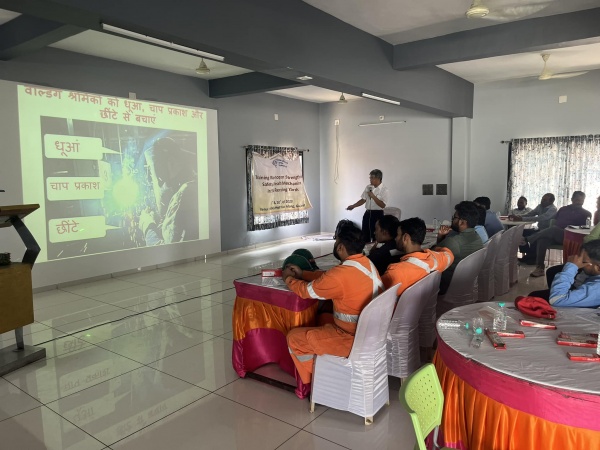 The most recent workshop was held on 18-19 April, where more than 100 participants engaged in discussions on how to make shipyards safer and greener. As part of the workshop, participants visited the Pramukh steel workshop to observe best practices regarding material handling, workstation, storage of material, and pathways at the workplace.
Participants discussed how best to improve working conditions at yards while at the same time ensuring that yards become more environment friendly. They also charted out what future they want to build together, in the form of Dream Alang.