19 October, 2021For the first time in 35 years, 10,000 workers are on strike at 14 John Deere plants Iowa, Illinois, and Kansas in the US.
The strike started at midnight on Wednesday 13 October, after workers rejected a proposed six-year contract on 10 October. John Deere offered a below inflation pay deal that amounted to a $1-per-hour wage increase for most workers, and eliminated pensions for new hires, at a time when the world's largest farm equipment company is making record profits. Top management has profited from this development: John Deere's CEO John C. May made $15.6 million in 2020.
Union members say that John Deere's offer was an insult after they made billions for the company in a pandemic. As a popular T-shirt worn by striking workers said,
"Deemed essential in 2020, prove it in 2021. Can't build it from home."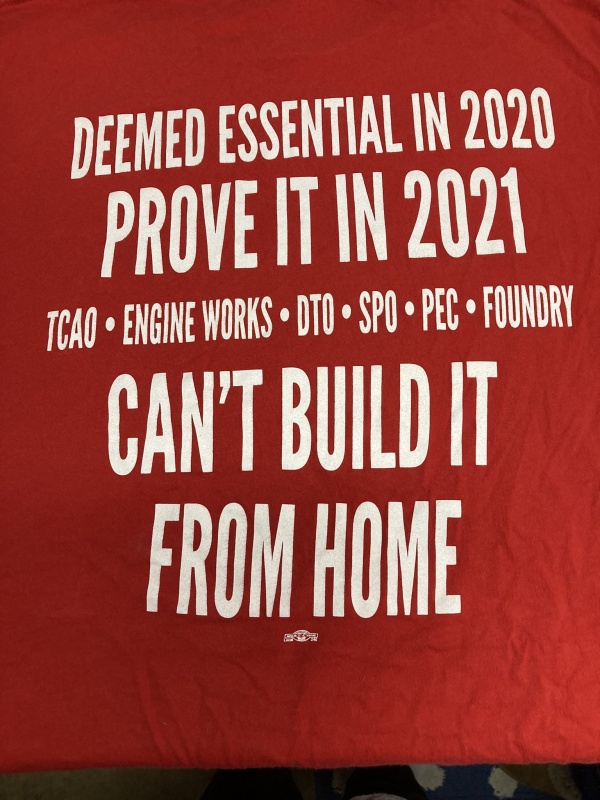 UAW president and IndustriALL executive committee member Ray Curry, said:
"UAW John Deere members have worked through the pandemic after the company deemed them essential, to produce the equipment that feeds America, builds America and powers the American economy. These essential UAW workers are showing us all that through the power of a strong united union voice on the picket line they can make a difference for working families here and throughout the country."
The company is attempting to maintain production by using white-collar workers as scabs, with sometimes disastrous results.
John Deere is trying to break a strike by having salaried office workers operate heavy machinery, let's see how that's going— pic.twitter.com/Yb1JkoFAH8

— Ken Klippenstein (@kenklippenstein) October 15, 2021
IndustriALL general secretary Atle Høie wrote to Curry, saying:
"IndustriALL Global Union rallies behind more than 10,000 UAW John Deere members at 14 facilities in Illinois, Iowa and Kansas. We support your demands for workers at John Deere "to earn a decent living, retire with dignity and establish fair work rules."
"We call on John Deere to fully consider the legitimate demands of UAW members, as well as recognise the vital contribution and commitment of workers throughout the pandemic to produce essential farming, construction and energy equipment, and agree on negotiating a fair collective agreement concerning, among others, wage gains and enhanced retirement benefits.
"Furthermore, IndustriALL severely condemns any attempt by the company to use scabs in order to undermine social dialogue and negotiations between the company's management and our affiliate UAW."
Analysts see the strike as part of a revolt by frontline, essential and production workers who made major sacrifices during the pandemic. The John Deere strike is part of an unprecedented wave of industrial action that is sweeping across many different sectors in the US, that the media has dubbed "Striketober".
Union activists hope that this strike will be a turning point for the US labour movement, which has been in decline since Ronald Reagan defeated a strike by air traffic controllers in 1981. The 1980s saw the introduction of two-tier contracts that provide worse conditions for new hires. Labour militancy sank to an all-time low after the 2008 financial crisis, when many feared for their jobs.
However, there are increasing signs of workers wanting a new deal after making sacrifices during the pandemic.
NEW: Striking John Deere workers are furious about the company's contract offer which would give them only a $2-3 raise over 3 years.

Deere's CEO made $15.6 million in 2020 — a 160% raise.

"John Deere made billions and threw us peanut shells...We're supposed to scoop them up?" pic.twitter.com/WHzkrjKn1M

— More Perfect Union (@MorePerfectUS) October 18, 2021
Images: Jonah Furman