4 August, 2020Thousands of workers have taken strike action in Iran's South Pars gas fields, protesting the late payment of wages and poor working conditions.
About 10,000 workers have stopped work as a wave of wildcat strike action has hit major refineries and industrial projects in Iran's South Pars gas fields. The workers are protesting the late payment of wages, poverty wages, insecure employment and poor working and living conditions as they battle 50-degree heat.
Late wage payments are a frequent problem, and localized protest and strike action is common. However, this large scale, coordinated wave of strike action is unprecedented, and affects a number of refineries and many contractors.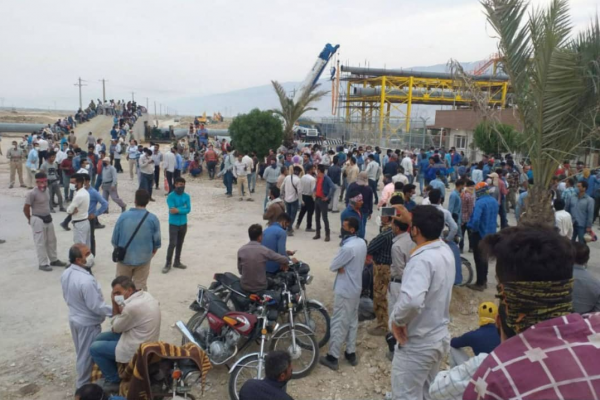 The strikers are builders, electricians, welders, pipefitters and other tradesmen working for employment agencies and gang masters on industrial projects in the world's largest natural gas field. They work a shift cycle of 20 days on, ten days off, and are housed in dormitories close to the workplace while on shift. They intend to refuse to work for an entire 20-day shift cycle.
The wave of strike action was triggered when Ebrahim Arabzadeh, a contract worker at Mahshahr petrochemical complex, died from heat exhaustion at work on 28 July. Workers presented a list of demands to the contracting companies. By Saturday 1 August, 10,000 workers were on strike, with 2,000 abandoning the gas fields entirely and returning home, and many others gathering outside the offices of the contractors.
IndustriALL Global Union's Iranian affiliate, the Union of Mechanics and Metalworkers of Iran, believes that the scale of the action means that workers have a chance to win concessions and possibly gain representation at major industrial sites.
As the strike continues, workers at other refineries and petrochemical complexes are expected to join.  By 4 August, protests had spread to Isfahan refinery in central Iran and Mashhad in the north east.
There is a wave of industrial action sweeping Iran, including at the Haft Tappeh sugar refinery and at industrial facilities in the city of Arak. Striking workers are often brutally suppressed. But the South Pars workers are using their precarious employment as an industrial weapon: because they are not permanent employees, they cannot be disciplined for work stoppages or leaving work altogether.
Organizers fear retaliation by the security forces as the strike spreads. There are unconfirmed reports of arrests and surveillance against key activists.
It was reported today that the first two days of the strike led some employers to indicate that they are prepared to renegotiate terms, including at Iranshahr power station in the south east.
IndustriALL assistant general secretary Kemal Özkan said:
"Iranian workers have proved time and again that no amount of repression will silence them. They will stand up for their rights and continue to protest until their voice is heard.

"The workers in the gas fields are taking coordinated, strategic industrial action in defence of their rights. If they hold firm, they can win a substantial change. Iran will suffer industrial conflict until independent unions are recognized."
The development of the South Pars fields is Iran's flagship hydrocarbons project. The country is dependent on the project for foreign exchange as it experiences hyperinflation. The state-run oil and gas company has jurisdiction over all projects in South Pars. French energy giant Total signed a deal to develop the fields in 2017, but pulled out due to US sanctions.
The fields are being developed in partnership with other multinational energy companies, but Iran has struggled to raise the necessary financial commitment. Contractors are under pressure to complete work on projects which are behind schedule, and often face liquidity problems due to delayed payments on government contracts due to banking sanctions.