8 December, 2021In 2017, the owners of the PT Freeport Grasberg copper mine in West Papua, Indonesia, provoked a strike of 8,300 workers. The company used the strike, which it said was illegal, as a pretext to fire 4,200. After years of legal disputes, the Indonesian Supreme Court has issued its final judgement: the strike was legal.
The Supreme Court has ordered Freeport to reinstate all the workers who were fired. The ruling, issued on 28 November, upholds a 2018 judgement by the Papua province department of Manpower that the strike was legal. At the time, the governor of Papua ordered the company to reinstate the workers. The company ignored the order.
Faced with company intransigence, the CEMWU union was forced to settle the dispute on poor terms in December 2017. However, the workers were advised to separately seek justice through the legal system.
The Grasberg mine in West Papua has long been contentious, with the US mining company Freeport-McMoRan accused of extracting resources from the country without beneficiation. The original dispute was triggered after the Indonesian government introduced a new Mining Act, which included plans to partly nationalize the mine. The Indonesia government required Freeport to divest 51 per cent of its shares and build a copper smelter.
The company retaliated by threatening to lay off workers, and in February 2017, about 12,000 direct employees, including prominent union activists, were placed on furlough, and 20,000 contractors were terminated. This triggered a strike, which lead to 4,200 workers having their contracts terminated. The company refused to speak to the union, and said that because it considered the strike to be illegal, the workers had "voluntarily resigned" by taking industrial action.
Workers who lost their jobs also lost access to healthcare, housing and schooling for their children. A number of workers died as a consequence. Striking workers were also subject to severe repression by the security forces, who have a history of being used by the company to suppress labour disputes. Several workers sustained gunshot injuries at a demonstration in April 2017.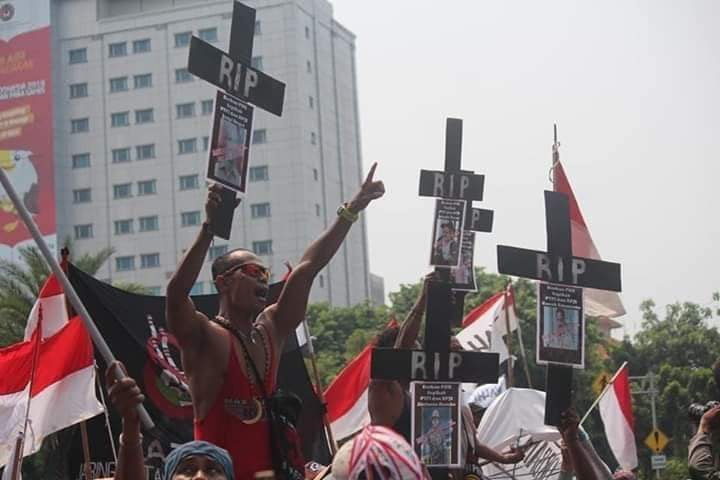 There is a history of labour unrest at the Grasberg mine. After 59 years of operation, Freeport workers went on strike for the first time in 2011. The strike cost Freeport a lot of money, but resulted in improved conditions for workers. The company has tried to break the union ever since.
The Indonesian government is now the majority owner of the mine, and the company built the smelter in 2021.
IndustriALL mining director Glen Mpufane said:
"This case has been deeply unjust from the start, and Freeport behaved without conscience. Workers and the people of West Papua were used as a political football in a dispute between the company and the Indonesian government.

"The Supreme Court ruling shows the justice of the workers' case. We hope this can be the beginning of the restitution of workers' rights, and of better industrial relations at the Grasberg mine."