12 August, 2020Indonesian unions are concerned that the new bill on job creation will be rushed through while parliament is in recess, and will undermine workers' rights.
IndustriALL Global Union has written to Indonesian President Joko Widodo, calling on him to ensure that the proposed law amendment will not infringe on the rights and benefits of Indonesian workers protected under existing labour legislation.
In a letter dated 29 July, IndustriALL general secretary Valter Sanches expressed serious concerns that the Omnibus Bill would lead to further labour flexibility, undermining protections such as the minimum wage, severance pay, health coverage and pension schemes.
He emphasized that:
"The draft bill is clearly in contravention of ILO Convention 98 on the Right to Organize and Collective Bargaining, Convention 100 on Equal Remuneration, and Convention 144 on Tripartite Consultation, which have been ratified by the government of Indonesia.

"The ongoing tripartite consultation must be conducted in good faith and on equal footing with all social partners. Rights and benefits guaranteed in the current labour laws and international core labour standards must not be infringed."
The controversial bill is a focal point for Indonesian labour movement organizing. On 3 August, the Confederation of Indonesian Trade Unions (KSPI) mobilized thousands of workers to protest the Omnibus Bill at the Indonesian parliament and the Coordinating Ministry for Economic Affairs.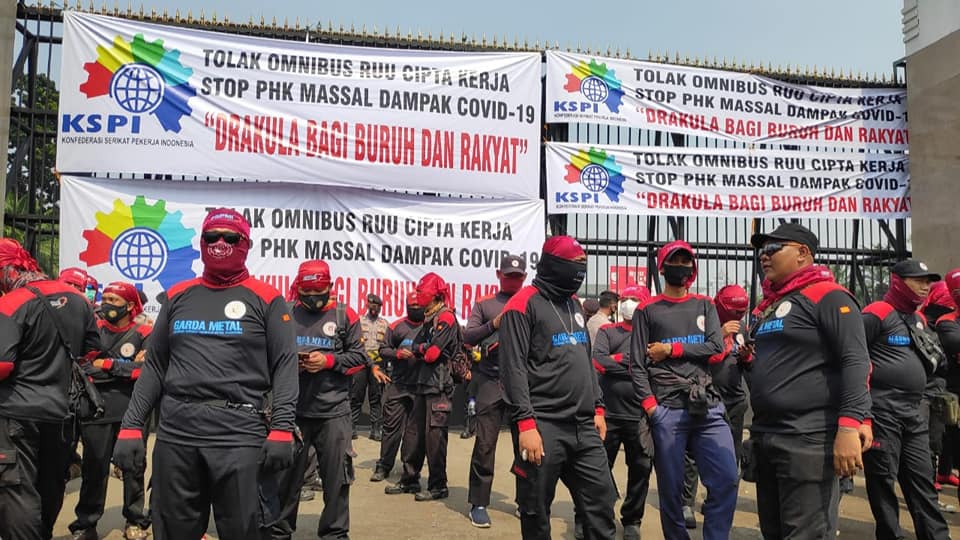 The KSPI president Said Iqbal says:
"We received information that Omnibus Bill will quietly be debated when the parliament is in recess. We will continue to organize protests until the bill is abandoned. A big rally will be held simultaneously across Indonesia on 25 August.

"Since the outbreak of Covid-19 pandemic, more than 100,000 workers have been laid off and 96,000 workers furloughed, the government should concentrate its energy to mitigate the employment crisis and stop the debate on Omnibus Bill."
The president of the Confederation of All Indonesian Workers' Union (KSPSI), All Indonesian Trade Union Confederation (KSBSI), Elly Rosita Silaban, who is now a member of a technical committee established by the government says:
"We will use the technical committee as a forum to present trade unions' viewpoints that we firmly reject Omnibus Bill as it threatens workers' rights such as wages, severance pay, work hours, social security and standard employments.

"KSBSI will never accept any form of degradation of rights. Nor we are anti-investment. Trade unions are key stakeholder, we have right to be consulted and give input in drafting labour bill".