15 September, 2021Today, on International Day of Democracy, IndustriALL's 3rd Congress adopted an emergency resolution on Myanmar, supporting the call for comprehensive economic sanctions against the military junta, among other actions.
Since the military seized power in Myanmar on 1 February this year, hundreds of thousands of citizens and workers have participated in peaceful demonstrations. Trade unions have been central to the organization of the Civil Disobedience Movement (CDM) against the coup and the brutal violation of human rights, extrajudicial killings, arrests, rapes and the destruction and burning of villages, hospitals, churches.
At least 1,088 people have been killed by the military, over 8,100 people have been arrested and over 1,983 arrest warrants have been issued. The UN estimates that 230,000 people have been displaced since 1 February.
Trade unionists and workers taking part in the demonstrations are being hounded by the military. Many trade union leaders have gone into hiding, several have been arrested and many have had their passports declared void.
During its third and wholly virtual Congress, a resolution on Myanmar was adopted, introduced by Khaing Zar, president of Industrial Workers Federation of Myanmar (IWFM).
"My country is run by military thugs, killing and imprisoning working women, men and activists. It is time to intensify the campaign; workers in Myanmar need your help now more than ever. Thank you for your solidarity and support."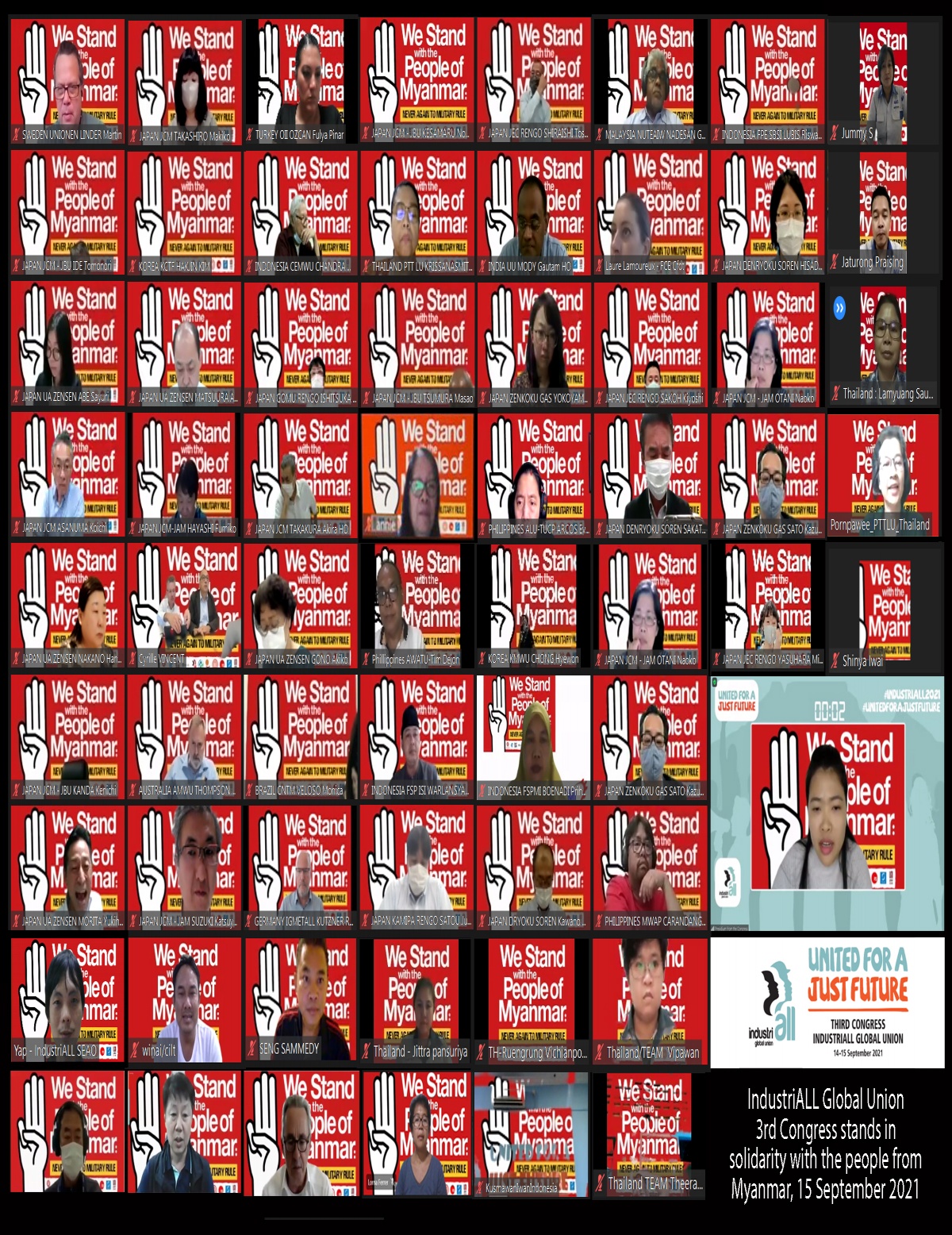 The resolution calls for, among other things:
Support for the campaign for comprehensive economic sanctions against the military junta by calling on governments to put pressure on multinational companies and global brands to cease their operations, divest, stop placing new orders and halt their business relations in Myanmar
Demand the withdrawal of all arrest warrants against trade unionists and labour activists for their solely peaceful activities, and to demand an end to the attacks
Exert pressure on their national governments to demand for NUG credential recognition at the UN General Assembly
IndustriALL president Jörg Hofmann urged the 3,000 unionists who had gathered online to support the campaign on Labour Start, calling on the UN to reject the credentials of the illegitimate military junta of Myanmar.
IndustriALL closely coordinates its activities with the ITUC and other global unions under the the Council of Global Unions (CGU) to effectively end the military junta' s reign of terror and restore Myanmar on the path to a democracy where working people and their representatives can return to the free exercise of their fundamental rights.
Eleven global unions are calling on their affiliates worldwide to support today's global day of action on Myanmar, and have published a joint statement:
"A democratic system is fundamental to the exercise of trade union rights and fundamental freedoms. We express our strongest solidarity with the workers of Myanmar in every sector and from every profession who have sacrificed their lives, freedom and jobs to persist in the CDM, paralyse the military's administration of the country and shut down its major economic activities."