15 May, 2019IndustriALL Global Union affiliate the Korean Metal Workers' Union (KMWU) and civil society groups have joined forces to oppose the merger of Hyundai Heavy Industries with Daewoo Shipbuilding and Marine Engineering.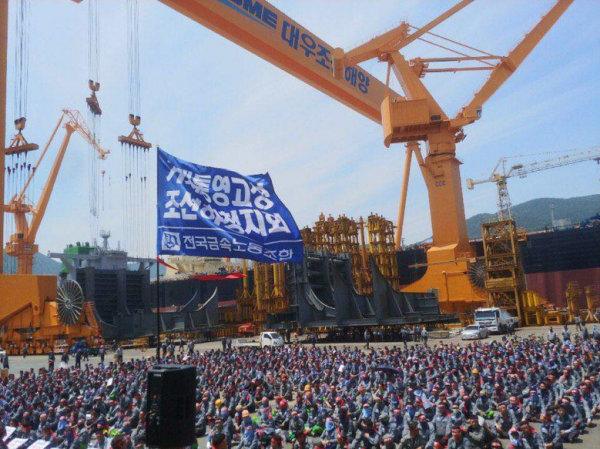 The KMWU, labour and civil society groups have come together to resist the merger of Hyundai Heavy Industries (HHI), the world's largest shipbuilder, with Daewoo Shipbuilding and Marine Engineering to form a new company called Korea Shipbuilding and Offshore Engineering (KSOE).
A memorandum of understanding on the $1.75 billion merger deal was signed on 8 March after secret negotiations between HHI and the state-owned Korea Development Bank, which is the majority shareholder in Daewoo. The deal needs to be approved at an extraordinary shareholders meeting which will be held on 31 May, merging the world's largest shipbuilder with the second largest shipbuilder by sales, creating a dominant player with strong monopoly power.
The KMWU has criticized the deal as a Korean government handout to a chaebol run by the family of Chung, Moon Joon. Instead of healthy competition, the deal would give the new company 58.5 per cent of the global liquified natural gas market, 56.6 per cent of very large crude carriers and 21.2 per cent of all outstanding ship orders worldwide, distorting the entire shipbuilding ecosystem.
The deal will spin off productive work, as well as HHI debt, to an unlisted company, while retaining the assets in KSOE. The KMWU denounced this as a plan to gouge HHI, shifting the debt into an entity that can be restructured at workers' expense.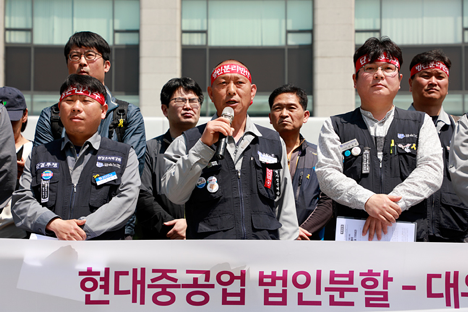 KMWU HHI branch chair Park, Geun-tae said:
"Though workers built this company by the sweat of our brow, they aim to take the cherries and stick us with the pits.

"We will spare no tactics to stop this process, including blocking the extraordinary shareholders meeting."
Unions and other stakeholders were excluded from negotiations, and fear that the merger will spark a crisis in the shipbuilding industry, jeopardizing workers' livelihoods and local communities across the supply chain. The Korean shipbuilding industry has already experienced harsh restructuring, with more than 100,000 workers losing their jobs since 2014. In 2017, during the process of splitting up HHI, the union collective agreement was not recognized, setting a precedent for the further erosion of union influence.
IndustriALL assistant general secretary, Atle Høie said:
"The acquisition is becoming a negative factor impacting jobs and fair trade on a global scale. IndustriALL will take action to secure trade unions' rights and social dialogue for the global shipbuilding industry for a sustainable future."