18 July, 2017 In a recent ILO report, World Employment Social Outlook: Trends for women 2017, 70 per cent of the women would like to perform a paid job while more than 50 per cent of them remain out of the labour market.
According to the report, not only are women less likely to enter the labour market than men, but when they do, they face more difficulties to find a job. Globally the unemployment rate for women is 6.2 per cent whereas for men it stands at 5.5 per cent.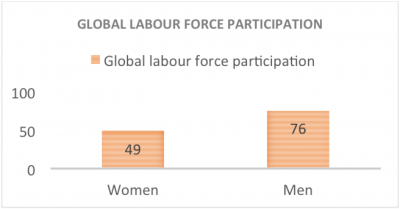 At the global level these gaps have remained relatively unchanged even if in some countries the gaps are closing more rapidly.
A large proportion of women don't have access to decent work. 15 per cent of working women are contributing family workers. This proportion has declined in the recent years, but it reflects the shift of women to *own-account work, for which women do not benefit from any kind of social protection.
Although the gender pay gap varies from country to country it remains widespread. In some countries the gap in hourly wage rates between women and men can reach 40 per cent. In developed countries, not only are women paid less but there are also fewer women in highly paid positions.
"Over 800 million women still lack adequate maternity protection. The gender pay gap is narrowing only at a glacial rate. Women continue to be represented in low paid jobs, and the concept of equal value remains allusive for far too many. […] This trend should worry us and must worry us and the progress is not going to happen by continuing to do more of the same." Said Guy Rider, General Secretary of the ILO, at the World of Work summit during the ILC in 2017.
Gender segregation in sectoral distribution is a reality. At global level women are primarily working in education, health and social work, followed then by retail and sales. In Asia and in North Africa women are also concentrated in manufacturing, reflecting the high proportion of women workers in apparel manufacturing. This segregation reflects the difficulties faced by women to enter certain jobs.
Women face a series of socio-economic constraints varying from country to country: discrimination, gender role conformity, lack of education, work-life balance, lack of childcare and transportation.
Sexual violence and harassment also remains a barrier for women to enter and evolve in the labour market.
"We have to empower these women to understand their rights and those who are not rights at them, they do not understand their rights at work, because they do not understand. They think it is right for me to be this. We have to empower them. Let them know that it is not right…. The big issue is awareness of the women," said Rehema Ludanga, from the Tanzania union of industrial and commercial workers at the World of Work summit, ILC 2017.
The ILO is calling on governments and other stakeholders to take action by promoting equal pay for equal work, tackling the root causes of occupational and sectorial segregation, transforming institutions to prevent and eliminate discrimination, and dealing with violence and harassment against both men and women.
"These gaps are not acceptable anymore. Things are changing too slowly. We, as trade unions have a significant social responsibility in closing these gender gaps. We need to fight at work to advance women's rights and promote equality. We need to empower our women members, develop their leadership capacity to create opportunities and space for them to jointly fight with male workers for workers' rights and promoting equal rights!" said Valter Sanches, IndustriALL general secretary.