21 April, 2021The Indonesian Trade Union Confederation (KSPI) organized a street and virtual action against Indonesia's controversial Omnibus law on job creation on 12 April. 10,000 unionists affiliated to KSPI staged protest in 150 cities and at 1,000 companies.
Omnibus law has created turbulence in the Indonesian society since its introduction in January 2020. Trade union confederations like KSPI, KSBSI, KSPSI and KPBI have staged numerous huge demonstrations to oppose the regressive labour law.
The controversial law has removed district sectoral minimum wage, reduced severance pay benefits, widened the scope of outsourcing and made life-long contract workers possible.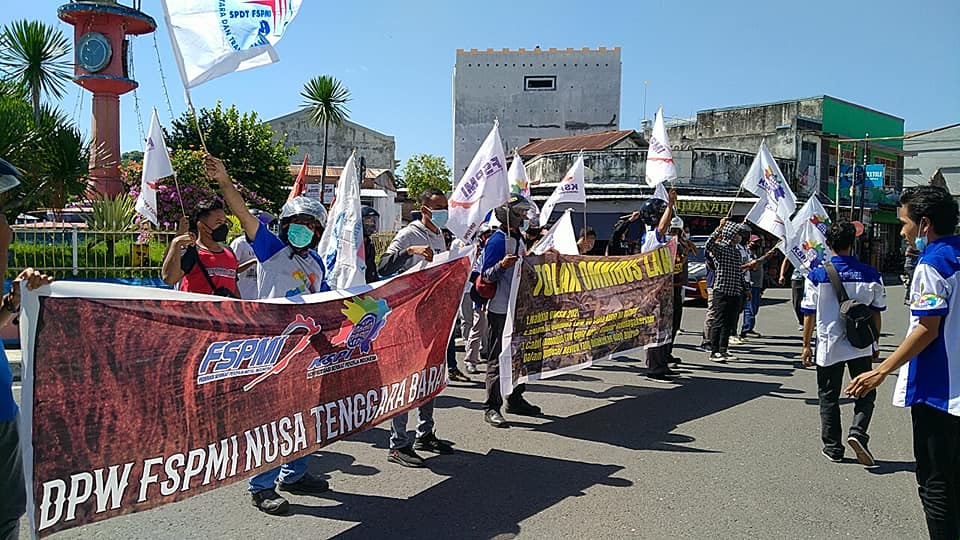 IndustriALL Indonesia council chairperson Iwan Kusmawan, says:
"The primary objective of the action on 12 April is to highlight the ongoing judicial reviews. We hope that the constitutional court can declare the Omnibus law unconstitutional and scrap it."
KSPI is urging the Indonesian government to accept its four demands:
to cancel the Omnibus law
to implement district sectoral minimum wage
to pay religious holiday allowance
to investigate alleged corruption at the social security administration
"Despite the Covid-19 pandemic, we will continue to fight Omnibus law, a labour policy that puts workers' interest at risk. We urge the government not to delay its submission to the court, and thank all unionists participating in the street and virtual action,"
says FSPMI president Riden Hatam Azis.
"We are very concerned that Indonesian workers no longer have district sectoral minimum wage, as this is a big rollback of workers' rights. We support our Indonesian affiliates in their joint campaign against the Omnibus law,"
says IndustriALL South East Asia regional secretary Annie Adviento.
Five of IndustriALL's affiliates participated in the action, Federation of Indonesian Metal Workers' Union (FSPMI), Federation of Chemical, Energy, Mining, Oil and Gas Workers' Union (FSP KEP), National Industrial Workers Union Federation (SPN), The Federation of Pharmaceutical and Health Workers Union (FARKES) and Federation of Indonesian Cement Workers' Union.