3 May, 2022Around the world, IndustriALL affiliates took action on this year's May Day to call for improved workers' rights.
In Thailand, IndustriALL affiliate CILT joined other unions in a rally today to demand increased minimum wage, 180 days maternity leave, a reformed social security system and ratification on ILO Conventions 4, 87 and 98.
Unions in Sri Lanka called for immediate political solutions to address the country's dire economic situation.
MEGM in Mongolia used the May Day rally to protest the new labour law that the unions say enables employers to steal the workers' salary. The IndustriALL affiliates also called for an eight-hour workday.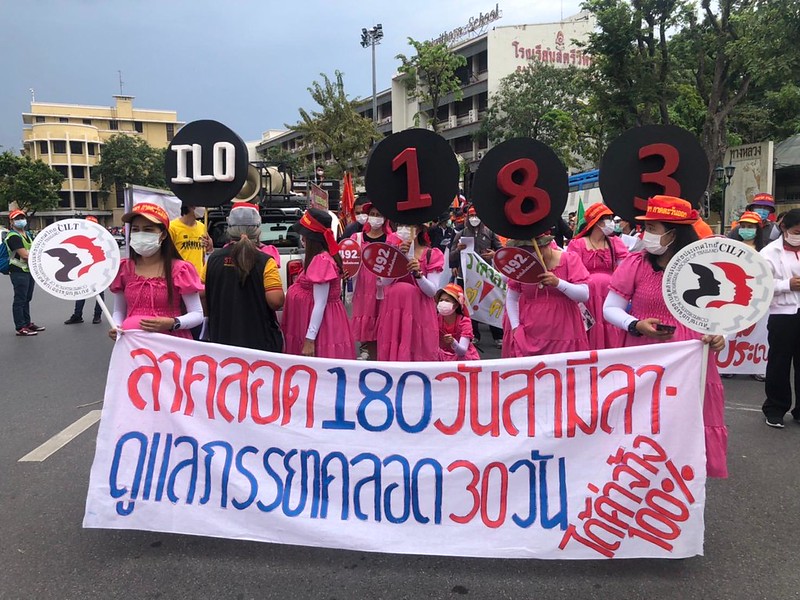 In a joint statement, the Confederation of Cambodian Worker-Movement (CCW), Collective Union of Movement of Workers (CUMW), Independent Labor Union Coalition (ILUC), Cambodia Development People' s Life Association (CDPLA), Association of Domestic Workers (ADW), called on the government of Cambodia to ratify ILO Conventions 144, 183, 189 and 190, and to review the implementation of ILO Conventions 87 and 98.
In Korea, 75,000 workers rallied in 16 regions, with 14,000 on the streets of the capital Seoul, calling for labour rights for all workers, without discrimination and the right to a safe workplace, and an end to anti-labour policies.
Unions in the Philippines addressed poverty wages, poor occupational health and safety and demanded an end to violence and harassment in the workplace, amid local and national elections and the corona virus crisis.
IndustriALL affiliates in Sub-Sahara Africa came out to commemorate May Day, campaigning for the restoration of dignity in world of work.
On May Day, Lesotho union IDUL officially opened its office in Buthe Butha, aimed at improving service delivery to mine workers. Belgian union ACV-CSC have supported the construction of the office.