18 November, 2020Tens of thousands of workers demonstrated across South Korea on 14 November, calling on the MOON Jae-in government to withdraw a regressive labour law revision and enact the "CHUN, Tae-il Act", as workers commemorate the 50th year since the self-immolation of Korean labour martyr CHUN, Tae-il.
IndustriALL affiliate Korean Metal Workers' Union (KMWU) joined sister unions in the Korean Confederation of Trade Unions (KCTU) in demonstrations and marches across the nation, including 26 rallies in the capital Seoul and 13 in the regions.
In Seoul, only 99 union members participated in each street march according to guidelines, while other union members kept sufficient distance following on the sidewalk. But on the assumption that "union members might try to join the street march," police blocked the movement of workers on public sidewalks and closed in on pockets of unionists with police shields up so unionists could not socially distance.
Police also violated quarantine measures by concentrating large clusters of uniformed and plainclothes policemen who pushed up against marchers.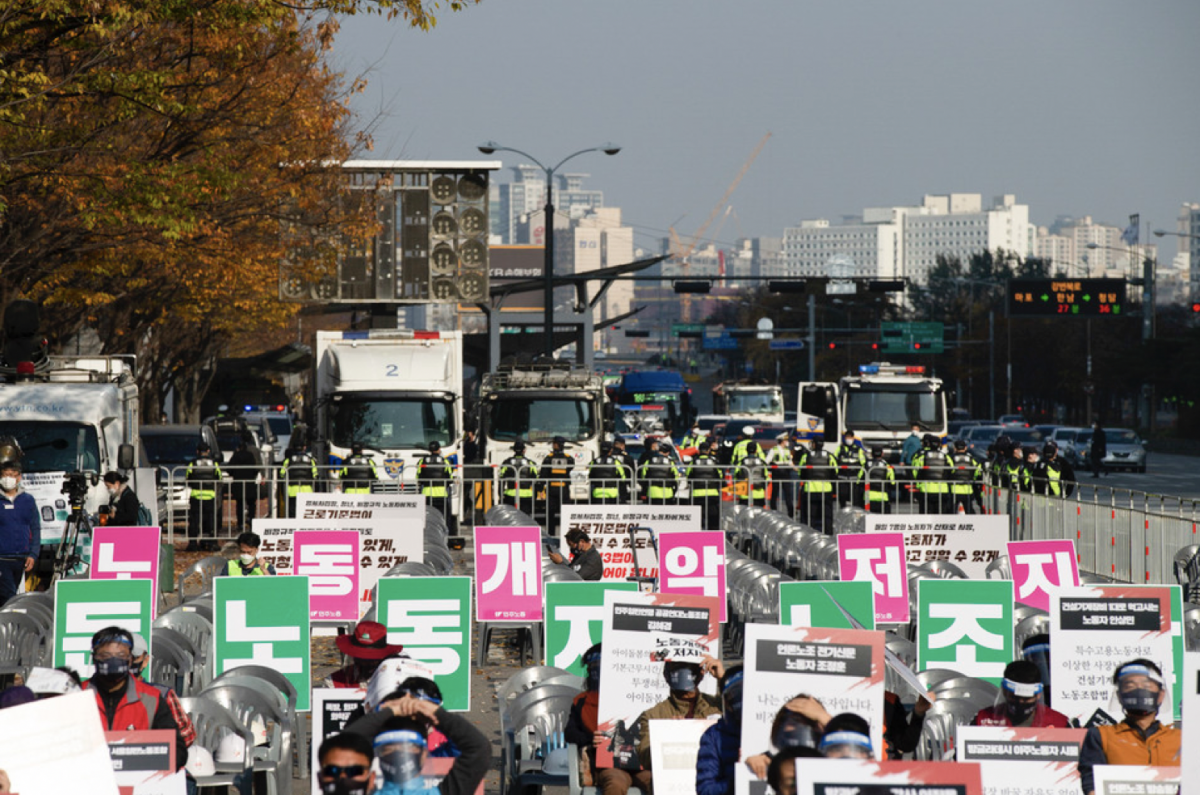 Member of IndustriALL Executive Committee member and KMWU president. KIM, Ho Gyu, is urging members to stand up for the rights for all workers in Korea:
"It is no exaggeration to say the history of the democratic workers' movement in Korea is the fight over labor law reform, begun 50 years ago when CHUN, Tae-il set himself on fire holding a copy of the labor law. The government's revision of the trade union law as barter for ratifying ILO core conventions is undermining trade unions and leaving intact only the trade union signboard.

"We failed to stop the "CHU, Mi-ae" labor law revisions a decade ago and we are wearing the shackles of restrictions and the multiple union bargaining channel machinery today. But we still have our spirit of struggle and resistance. We must stand together and we must gather our forces and rise up to this."
South Korea's repeated violations of fundamental trade union rights has made it a first litmus test on the effectiveness of "trade and sustainable development chapters" in EU Free Trade Agreements.
The EU dispute settlement with Korea over workers' rights began in 2018 and entered the Panel of Experts stage in 2019, with unions cooperating with human rights organizations to submit an Amicus curia to the panel. But with Korea's National Assembly Environment and Labor subcommittee bill markup scheduled for 30 November 2020 and repeated delay of the panel's report, it appears any report delivered would happen after the conclusion of subcommittee negotiations on revision content.
In addition to violations of the principles of freedom of association, the revisions fail to address existing recommendations by the tripartite ILO Committee on Freedom of Association. including promoting collective bargaining for precarious workers, sufficiently dissuasive sanctions on employer unfair labor practices, and revising Penal Code 314 (Obstruction of Business) to bring it in conformity with Freedom of Association principles.
While calling on the government to withdraw the 30 June 2020 labor law revisions, the National Workers' Rallies also commemorated the spirit of CHUN, Tae-il, who died on 14 November 1970 after setting himself on fire and running through the factory district shouting, "We are not machines!" and "Don't let me have died in vain!", after futile attempts to access rights for workers.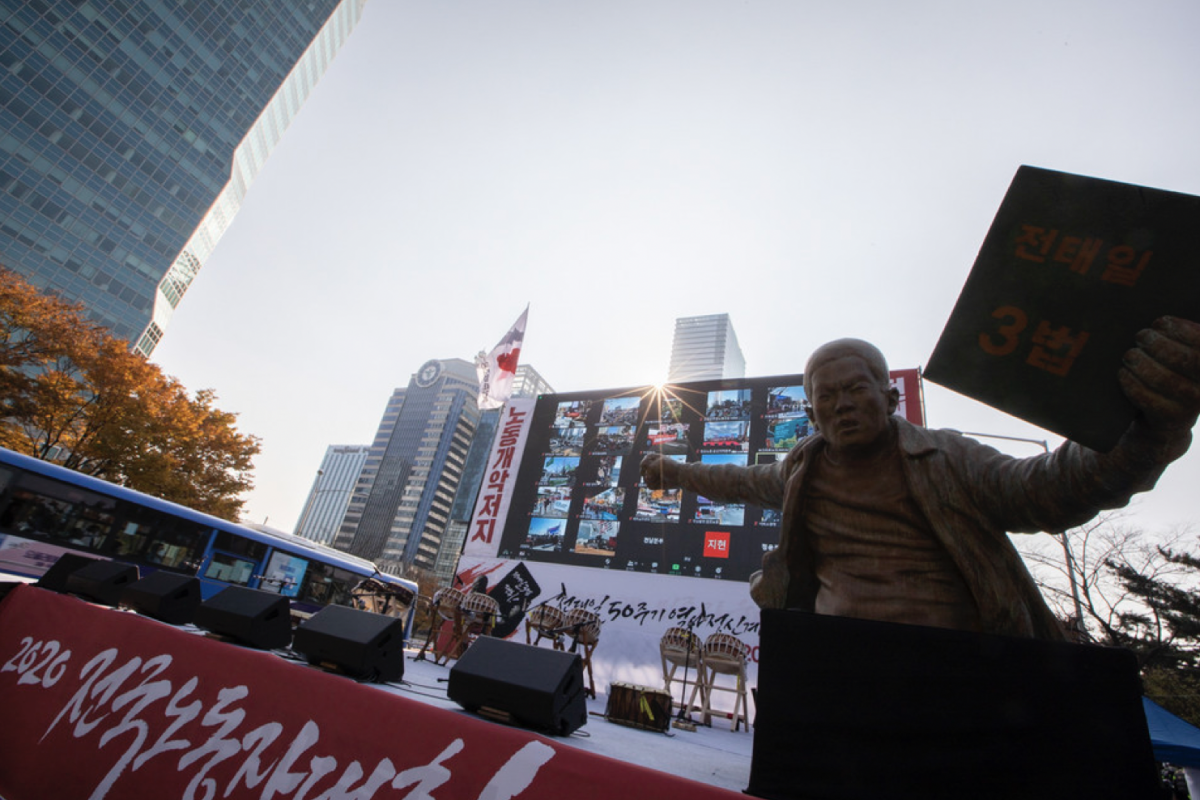 Trade unions proposed the "Three CHUN, Tae-il Laws" and gathered over 100,000 signatures in September to put the bill before parliament by petition. Among other things, it proposes to broaden the definitions of "worker" to give precarious workers access to trade union rights and to close loop-hole "exceptions" and enable application of minimum standards and protection at small companies with four employees, or less.
The Environmental and Labor Committee of the National Assembly plenary session decided on 12 November to refer the 3 CHUN, Tae-il Laws bill to subcommittee where it awaits deliberation.
Unions also gathered over 100,000 signatures to place a bill to hold accountable companies that neglect to redress conditions leading to industrial disaster and collective deaths caused by their products and production processes. Despite the popularity of the bill, the ruling party has decided to submit a competing proposal.
Valter Sanches, IndustriALL general secretary, says:
"IndustriALL stands in solidarity with its Korean affiliates in their struggle against the regressive draft law. We urge the South Korean National Assembly to immediately drop the proposed revisions. Instead, Korea must ratify ILO's Fundamental Conventions as per its earlier commitment.

"In line with the Executive Committee resolution from May 2019, IndustriALL Global Union will continue to support its Korean affiliates."