22 February, 2021Today saw a nationwide strike in Myanmar, as hundreds of thousands of people took to the streets in spite of a previous statement by the military that protestors risked their lives.
The 22222 general strike marks today's date, 22 February 2021, was called by a general strike committee consisting of political parties, trade unions, farmers' organizations, student movements and the other groups.
IndustriALL Global Union affiliate Industrial Workers' Federation of Myanmar (IWFM) mobilized thousands of workers in the Hlaing Thar Yar township, Yangon. The protesting workers carried placards saying "We demand democracy", "Free our leaders" and "Free Aung San Suu Kyi", waiving the flags of IndustriALL affiliate Industrial Workers' Federation of Myanmar (IWFM) and Confederation of Trade Unions in Myanmar (CTUM).
 
Khaing Zar, IWFM president, says:
"This is a battle for democracy. We must understand that under a military regime, there are no worker's rights or human rights, everyone will live with fear and stress, no workers' complaint or protest will be allowed anymore.

"Before 2010, workers lived with low wages and long working hours, they could only get whatever employers gave, no guarantee of minimum wage and social security. If the dictatorship returned, investment will leave the country, many people will be out of jobs."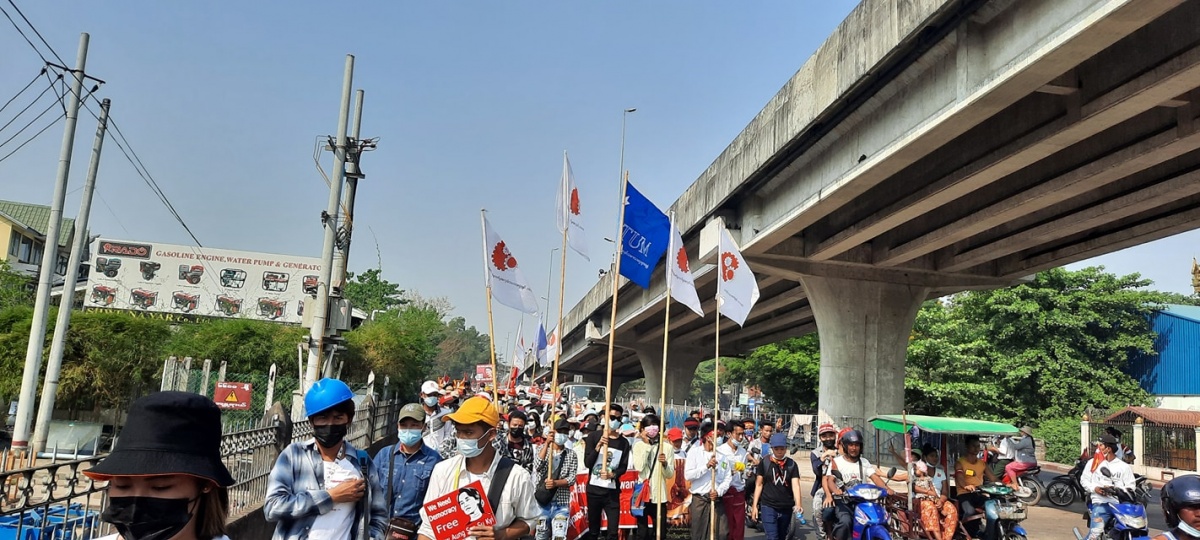 According to local media, hundreds of thousands of people flooded the streets of Yangon, Mandalay, Naypyitaw and Pyinmana, demanding an end to military rule. Many businesses decided to close, in sympathy with the pro-democracy movement
 
IndustriALL Global Union general secretary Valter Sanches says:
"We stand in solidarity with our brothers and sisters in Myanmar during their struggle to restore democracy in their country. IndustriALL will continue to provide necessary support for the workers and unions who play an important role in pushing back against the military."
To date, more than 100 elected parliamentarians and chief ministers, including Aung San Suu Kyi, have been arrested by the military.