18 September, 2019Almost 50,000 UAW members have stopped work in more than 50 General Motors plants across the US in the largest strike in the country's auto sector in over a decade.
Some 200 local union leaders from United Auto Workers (UAW), an IndustriALL Global Union affiliate, unanimously agreed to strike after the current collective bargaining agreement with the auto giant expired on Saturday 14 September.
Workers want GM to recognize the contributions and sacrifices that the company's UAW members have made to create a healthy, profitable, industry.
"We told UAW GM members that we would stand up for them and their future," said Gary Jones, President of the UAW.
UAW members are demanding:
Fair wages
Affordable healthcare
A share of profits
Job security
A defined path to permanent seniority for temporary workers   
"We stood up for General Motors when they needed us most. Now we are standing together in unity and solidarity for our members, their families and the communities where we work and live," said UAW Vice President Terry Dittes.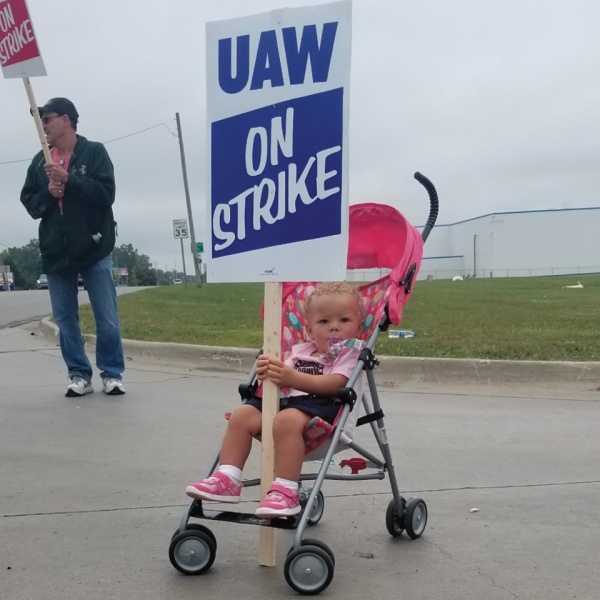 In 2008, the US Treasury bailed out GM to the tune of US$49.5 billion, and UAW workers accepted major concessions to keep one the country's largest car makers in business. In the past three years, GM has made more than US$35 billion in profits in North America and workers want fair wages and a share of the profits.
At the same time, GM CEO Mary Barra's compensation was US$21.87 million in 2018, 281 times the median GM worker pay.
Another IndustriALL affiliate, Teamsters union, has said 1,000 of its members will stand in solidarity with the UAW and not haul any GM product to dealerships around the country, which will have a significant impact on GM's distribution capacity.
In a letter to UAW President Gary Jones and Vice-President Terry Dittes, IndustriALL general secretary, Valter Sanches, said:
"Your charter of demands calls for a fair share of GM's economic success, for job security and fewer precarious workers. I can ensure you of the support of the entire labour movement around the globe in this. Insecurity and precarious work destroys our communities. This fight is also our fight. We stand shoulder to shoulder with you."
The strike comes at a time when 10,400 members of the Korean Metal Workers' Union (KMWU), also an IndustriALL affiliate, are in their second week of strike action against the automaker. Other IndustriALL affiliates, such as in Canada and in Brazil, have also taken bold action in defense of GM workers in their respective countries.
IndustriALL is calling on affiliates to show solidarity with UAW members at GM by writing to UAW President Gary Jones and UAW Vice President Terry Dittes, and copying in Mark Liburdi ([email protected] ) and Kristyne Peter ([email protected]).