5 August, 2019Workers at Harland and Wolff, the Belfast shipyard that built the Titanic, have occupied the 158-year old shipyard to protest against its closure.
The 130 workers, members of IndustriALL Global Union affiliates Unite and GMB, are calling for the yard to be nationalized. The yard was put up for sale in December 2018 due to serious financial problems at its Norwegian parent company, Dolphin Drilling, and has so far failed to find a buyer. Administrators are expected to make an announcement this evening, and place the firm in administration on the morning of 6 August. The workers have been given redundancy notices.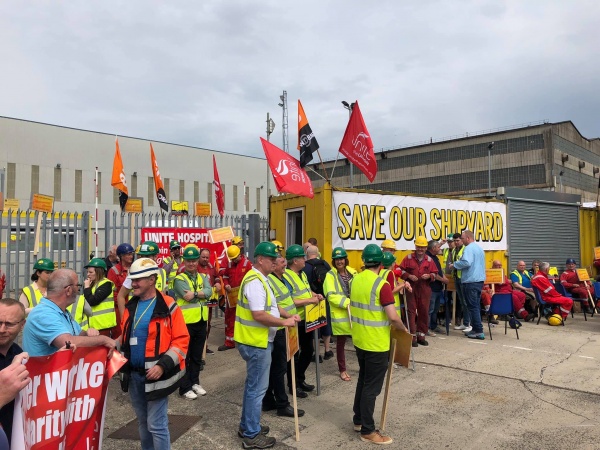 In addition to the occupation, workers protested outside Stormont, the Northern Ireland Assembly, and held a family day at the yard on Sunday. Messages of support and solidarity have flooded in from across the UK and Ireland, as well as further afield.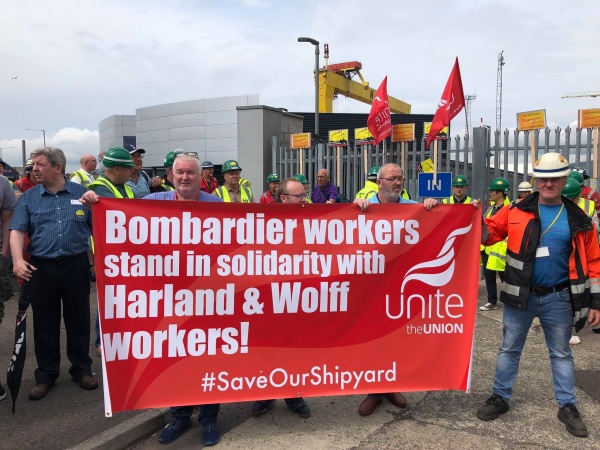 The unions are concerned that the yard will be sold after administration and asset stripped, with the company's expertise and skilled workforce discarded. Unions are calling for the yard to be nationalized as part of the UK government's strategy to protect shipbuilding. The closure of the yard could also have an effect on other yards, as Harland and Wolff is part of a consortium which is bidding for a Royal Navy contract.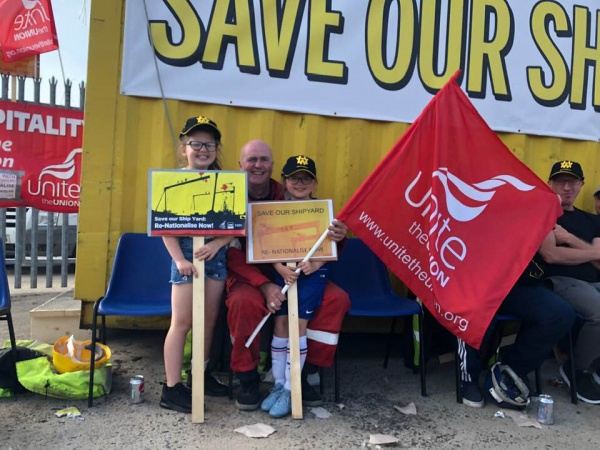 The Harland and Wolff yard is an iconic part of Belfast's industrial heritage and landscape. Founded in 1861, the yard employed 35,000 workers at its peak, building the Titanic and many other famous ships.
The yard has not built a ship since 2003, but has remained active repairing and refitting ships and oil rigs, and providing structural engineering to the offshore oil, gas and renewable energy sectors. In 2008, the yard built SeaGen, then the world's largest tidal energy generator, and has subsequently built components and platforms for offshore wind farms.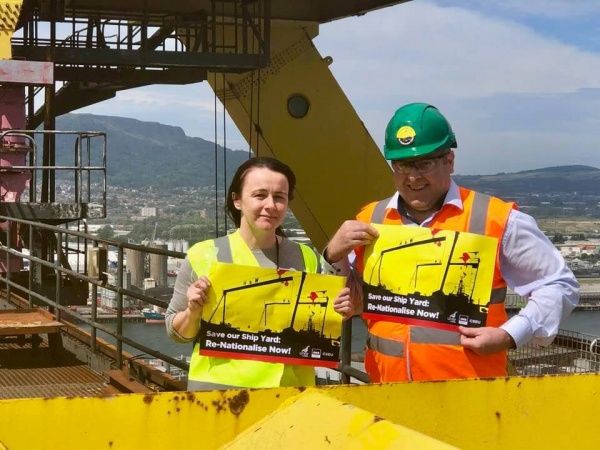 Susan Fitzgerald of Unite said,
"There is still time for the Government to put aside its ideological prejudices and re-nationalize Harland and Wolff.  Given the cost – in terms of lost purchasing power and taxes, as well as expenditure on benefits – of losing Harland and Wolff's jobs, re-nationalization would be a sound commercial decision as well as an investment in Northern Ireland's future."
Michael Mulholland of the GMB said:
"Our members have been protesting for almost 24 hours straight – such is the strength of feeling for this famous yard. GMB demands Harland and Wolf is renationalized, securing hundreds of jobs and Belfast's place as a global centre of shipbuilding."
IndustriALL director for shipbuilding and shipbreaking, Kan Matsuzaki, said:
"This historic yard is part of Belfast's industrial heritage. But it belongs to the future, too. There is surging demand for renewable energy, and Harland and Wolff workers have demonstrated that they have the expertise and experience to turn the yard around and supply the sector.

"It is deeply irresponsible to allow the yard to close. It must be saved."