2 October, 2019Some 30 representatives from oil and gas unions in Indonesia met in Jakarta on 26-27 September for an IndustriALL Global Union workshop looking at ways to organize more workers in the sector.
The meeting, which was the first of its kind, included representatives from IndustriALL affiliates, FSP KEP-KSPI, CEMWU, FSPPB and the Federation of Oil & Gas SARBUMUS. Together, their members include workers at Air Liquide, Linde, Schlumberger, Halliburton, Pertamina, Chevron, Geoservices, Conoco Philips, Petro Gas and Mesco Sarana Utama.
Multinational corporations are playing a significant role in the country, and the meeting highlighted that IndustriALL affiliates need to strive towards effectively negotiating with these corporations to get collective agreements that are pro-worker.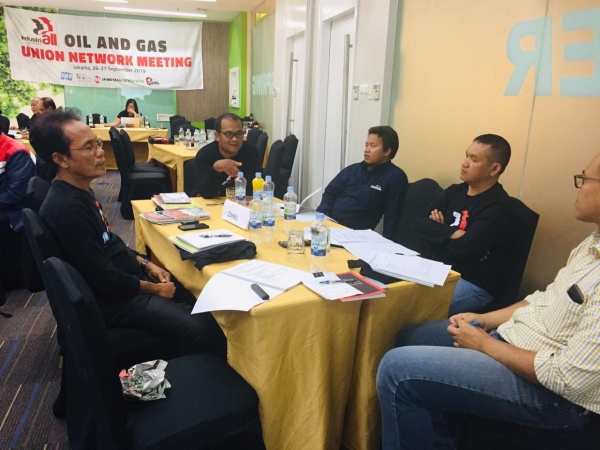 The main problem resides in the vast expanse and geography of the country, which has more than 17,000 islands, making it very difficult to meet workers or involve them in national unions.  Many companies already have their own house unions but they are not linked to unions at the national level.
Delegates showed a strong commitment to follow the action plan designed during the workshop, which includes plans to map multinational companies in the country and hold meetings with union leaders every two months to share information and debate key challenges and points.
Specific training on how to draft collective bargaining agreements in the sector will be developed and the unions will devise a strategy to organize women. At Chevron in Indonesia, there are only 800 women out of 20,000 workers.
Diana Junquera, Energy Director, said:
"Indonesian unions need to build a strong union network in the oil and gas sector and work together with house unions. The workshop has helped participants see the value in creating a national oil and gas network as a means to communicate better and support workers in the sector."
In 2020, the group will meet again to evaluate progress and update the situation.