30 September, 2020Anti-women and misogynist remarks made against female union leader Zehra Khan in a television programme sparked an all women protest in the city of  Karachi in Pakistan, bringing together trade unionists, political party leaders and activists.
Taking a stand against growing anti-women tendencies in media, IndustriALL Pakistan affiliate Home-Based Women Workers Federation (HBWWF) staged a demonstration in Karachi on 25 September.
Speakers underlined that a renewal of archaic customs and traditions of feudal and tribal society weakens the foundations of a modern, pluralistic country, and contributes to the growing tendencies of discrimination against women. It also paves the way for exploitation of women, children, transgender, minorities and other vulnerable groups in society.
When forces against women and human rights are directly or indirectly encouraged by the state, it ultimately makes women, children, girls and transgender vulnerable in the streets, education institutions, workplaces and even in their own homes.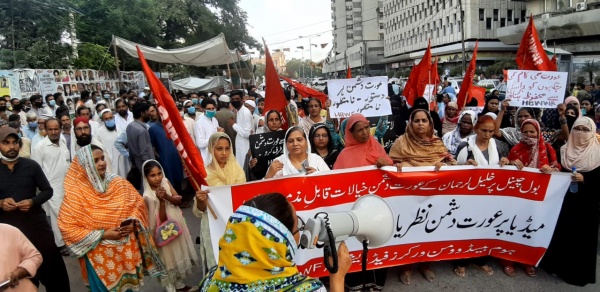 Zehera Khan, of HMBWWF, says:
"The misogynist comments by the writer Khalilur Rehman demonstrate a weakening of a progressive and democratic ethos in the society. This is also reflected in the increased violence against women, constituting a threat to their lives.

"Women in Pakistan can no longer be silent and we will come together to smash patriarchy in all its forms. The union movement, both in Pakistan and internationally, need to ensure that the way media portrays women is in line with modern views and that it respects internationally recognized women and human rights."
Participants at the demonstration demanded that:
Anti-women content in media, including electronic media, be banned
Sexual assault on women, harassment and propaganda against women should be recognized as a crime
Anti-women content in school books should be removed
Discriminatory laws against women should be abolished
Gender-based differences in wages should be eradicated