3 May, 2021The Alang Sosiya Ship Recycling and General Workers Association (ASSRGWA) is a successful example of organizing India's informal sector workers. The union has contributed to improving wages, social security measures and occupational health and safety (OHS), in what is often called the world's most dangerous industry. 
PROFILE

From Global Worker no. 1 May 2021

Country: India

Union: The Alang Sosiya Ship Recycling and General Workers Association (ASSRGWA)

Text: Petra Brännmark
The initiative to organize shipbreaking workers in Alang started in 2003 and a formal union with eleven members was registered in 2005. Alang is the world's largest shipbreaking yard with 169 plots and a workforce of 60,000 when all yards are occupied. More than 100,000 people work in the downstream industry. 
The union consistently worked to create awareness on workers' rights, trainings to address OHS concerns, win benefits and safeguard the interests of its members. The union now counts more than 18,000 shipbreaking workers as members, nearly all of which are migrant workers. 
Lending its experts on the shipbuilding sector, IndustriALL's Dutch affiliate FNV has collaborated with ASSRGWA in conducting training of trainers on safety aspects of shipbreaking including the use of personal protective equipment, knowledge of vessel structures, machinery placements, colour coding of pipelines, handling of chemicals, gasses and hazardous waste materials, lifting weights and use of safety measures to avoid dangerous methods while breaking the ship. The training also involved supervisors and management representatives. 
The union intervention has ensured that safety training programmes are conducted by the government for large number of workers and no worker is employed without safety training. At the same time, the union has organized regular safety training of trainers, focusing on specific tasks like gas cutters and fire fighters. Now employers are also sending their experts to train workers in the trainings organized by the union.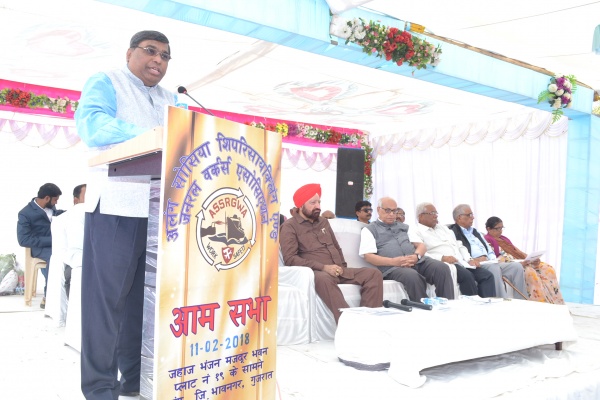 Vidhyadhar Rane, ASSRGWA general secretary, says: 
"The consistent support and collaboration with IndustriALL and FNV has played a crucial role in consolidating the union organizing efforts and enhancing our capacity to defend workers' rights. Here in Alang we have developed useful working relations with the employer's association and district administration, from whom we also received support to provide relief to workers during Covid-19." 
As the Covid-19 has unfolded, ASSRGWA has played a crucial role in providing relief safeguarding workers interests. The union has been holding regular meetings to assess the impacts of the pandemic and to understand what support the workers need. 
When India introduced a nation-wide lockdown ASSRGWA called on employers to ensure payment of wages for the lockdown period. With the support of the district administration and employer's association, the union provided subsidised and free food materials to over 21500 workers in two phases. ASSRGWA ensured that the authorities in Gujarat and in Mumbai sanitized the yards. It called on bank authorities to resume their services so that workers could send money to family members. 
Workers wanted to return home as the shipbreaking yards were closed during lockdown. But as there was no public transport, ASSRGWA swung into action, working with the district administration to avoid a where workers would walk hundreds of kilometres to reach their destinations. The union shared its database of where the workers were going with the district administration, enabling them to arrange buses and trains to transport the shipbreaking workers. 
As lockdown eased and the industry started to reopen, ASSRGWA, worked with employers' representatives to help trace the workers for a return to work. The union has also been applying pressure on the employers to adopt appropriate Covid-19 safety measures at the yards.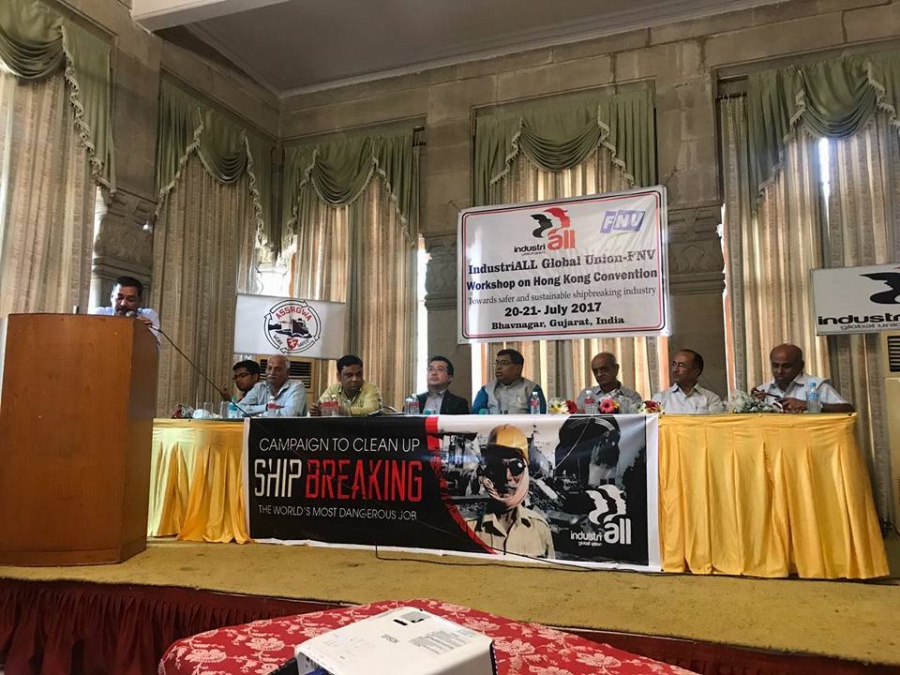 In 2019, India, the world's largest shipbreaking country, ratified the Hong Kong International Convention for the safe and environmentally sound recycling of ships. ASSRGWA has played a key role in promoting Hong Kong Convention, and is now involved in framing shipbreaking rules in line with the convention. 
"We are continuing to work on the greening of our shipbreaking yards and the implementation of the Hong Kong convention, all of which will create better working conditions for workers. While we are proud of our accomplishments, we are conscious of the existing challenges for our members. Going forward, we have to strengthen membership, social dialogue and enhance sustainability,"
says Vidhyadhar Rane.
The Alang Sosiya Ship Recycling and General Workers Association (ASSRGWA) is a member of IndustriALL affiliate Steel Metal and Engineering Workers Federation of India (SMEFI) of the national trade union centre Hind Mazdoor Sabha (HMS). ASSRGWA has 18,295 members.