30 September, 2021IndustriALL's third Congress passed a resolution condemning the repression of free trade unions in Algeria, and calling for the release of all pro-democracy activists, in particular trade unionist Ramzi Dardar.
In Algeria, a campaign for democracy and fundamental human rights called the Hirak – the word means "movement" in Arabic - has peacefully protested since February 2019. Free and democratic unions, including IndustriALL Global Union affiliates SNATEG and UAI, have been at the forefront of this movement.
The Algerian government has responded with harsh attacks on Hirak activists, and particularly trade union leaders. Algeria's independent, democratic trade union movement bears the brunt of ongoing state, political, police, administrative and judicial repression, ignoring observations from the ILO Committee of Experts in February 2020, with increasing numbers of trade unionists harassed or imprisoned.
Most recently, trade union leader Ramzi Dardar from IndustriALL affiliate Union Algérienne des Industries (UAI) was arrested on 30 June 2021. He is accused of terrorism, undermining the morale of the army and undermining national unity through his publications on social networks. On 18 July 2021, the court confirmed the judge's order and Ramzi was sent to Batna prison.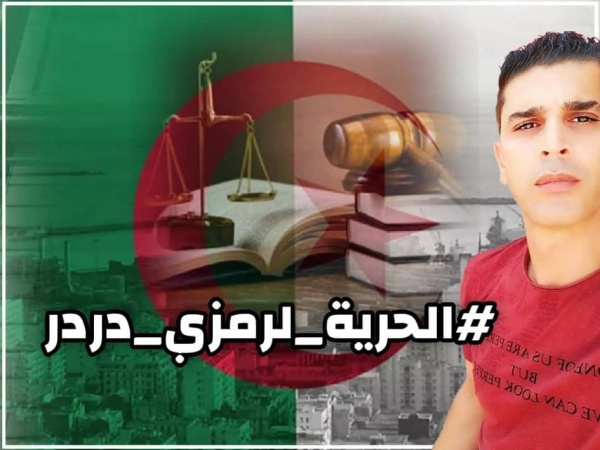 IndustriALL, together with other global unions, appealed to the ILO to urgently intervene with the Algerian government to demand his immediate release and for all charges to be dropped. The Algerian government responded by transferring Dardar to a prison block for death row inmates and terrorism defendants on 2 August. A trial date has still not been set. His physical and mental health are deteriorating.
The resolution was introduced at IndustriALL's third Congress on 15 September by exiled SNATEG activist Raouf Mellal, who spoke of his experience of violent arrest and repression that led to him seeking asylum in Switzerland.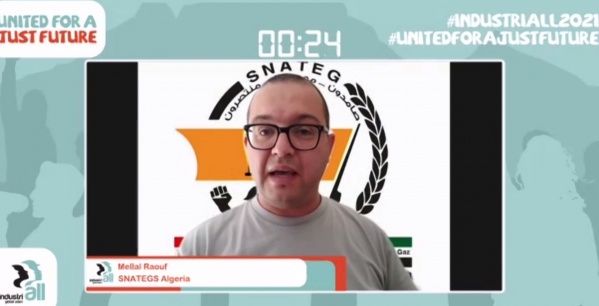 He said:
"The outcome of judicial, police, and administrative repression over the past two years is staggering, represented by the thousands sacked and arrested, and hundreds imprisoned because of posts on social media...

The military regime in Algeria has is accusing  democratic unionists of terrorism. This is a dangerous escalation after it  previously accused us of slandering institutions or inciting gatherings and strikes. Perhaps the best example of what is happening to dozens of trade unionists in Algeria is what is happening to our colleague Ramzi Dardar, who was imprisoned in August on charges of joining a terrorist organization.

"So, dear comrades, I appeal to you to support the urgent draft resolution condemning what the military rule is doing in Algeria and to support us in consecrating trade union rights, resinstating all those who wee sacked, and releasing all prisoners."
The resolution, which was passed, says:
Strongly condemns the Algerian government's continuous criminalization of the right to organize and to perform trade union activities, as well as the repression against free and democratic trade unions;
Urges the Algerian government to comply with the resolutions of the ILO Committee on the Application of Standards and Conventions to stop violating ratified international conventions;
Expresses its solidarity and support for the Algerian movement for democracy and the free and democratic trade unions, in particular its affiliates UAI and SNATEG;
Calls on the Algerian government to release immediately all Hirak movement activists and trade union leaders, in particular Ramzi Dardar.