15 March, 2019For the past 27 days, workers at the Ford India plant in Sanand, Gujarat, have been boycotting food provided by the company in protest against management's refusal to increase wages in collective bargaining negotiations.
The Sanand Ford India workers union, Karnavati Kamdar Ekta Sangh, has been negotiating for a collective bargaining agreement for the period of 2018 to 2020. Currently the workers receive extremely low wages of about INR 17000 (US$ 244) as net pay. Workers are demanding wages that reflect their work experience.
Most of the 864 union members at the plant have more than nine years of work experience. After series of negotiations, the management has marginally increased the wage offer from INR 9800 (US $141) to 10000 (US$ 144), to be phased in during the three years of the agreement.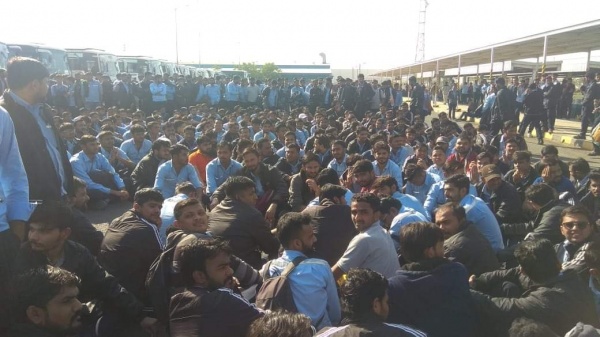 Maldevsinh Jadeja, the union president, says:
"We are in a very difficult situation as management refuses to increase our wages. We are the lowest paid automobile workers in country, and we can't provide our families with decent living conditions. Management is applying pressure by subjecting workers to disciplinary actions on flimsy grounds and insisting that we should report to the factory even if we are sick, in order get it examined by the company doctor.
So to express our concerns in a decisive but peaceful manner we continue to boycott the food provided by the company".
Georg Leutert, IndustriALL automotive director says:
"That one of the world's leading auto manufacturers pays their workers a pittance is unacceptable. Ford management should refrain from any pressure tactics, and instead take on board the workers' concern, engage in dialogue and find an acceptable solution to the demands."
Workers at the Ford India plant at Sanand are among the lowest paid in India's auto industry, as the compairison below shows. 
The net monthly wages at other auto plants in the region and across the country for workers with similar qualifications and work experience:
Tata Motors's Sanand: Rs 26, 421 (US$ 379)
Chennai Ford India: Rs 40000 (US$ 574)
General Motors's Pune: Rs 41,506 (US$ 596)
Daimler India plant near Chennai: Rs 42,000 (US$ 603)
Maruti Suzuki plant at Manesar: Rs 50000 (US$720)
Hyundai Motors India plant near Chennai: Rs 50,000 (US$ 718)