10 December, 2020IndustriALL Global Union affiliate, the National Union of Metalworkers of South Africa (NUMSA), is campaigning for an end to sexual harassment and violence at the workplace. As part of this campaign the union is providing support to members affected by gender-based violence.
One of the members receiving the support is Pontsho Serumula.
Serumula, who works for a company that manufactures aluminium products, suffered third degree burns in an acid attack on her face and body by her estranged husband at their home in Thokoza outside Johannesburg in 2014. She suspects that the acid was obtained from the factory where she and the husband are both employed.
 
Serumula was admitted to hospital, and it took her two years to recover from the burns. The case is in court where the former husband is facing attempted murder charges. After several postponements, judgment is expected to be delivered in 2021.
 
Recalling the trauma, Serumula says:
"After recovering from the burns, the operations manager said I should not come back to work as I would not cope. The reason he gave was that I will not be able to lift objects. I was surprised by this because my job does not require me to lift objects. It was only after my doctor's intervention that I resumed work. The employer never apologized for the ill-informed decision to stop me from working. I feel pain when I see my former husband at work, and we continue to carry out our duties as if nothing happened. Although we no longer live together. I am waiting for justice.
 
"My union stood with me during this ordeal. The support I got from NUMSA shows that unions are fighting against gender-based violence. This shows that we are stronger when we stand together. We must also be visible and must stand for other women who are facing gender-based violence.
"There must be no space at home, at work or in the union for gender-based violence and sexism. Women must enjoy the protection of the law and our union leaders must not shy away from supporting women who are facing abuse."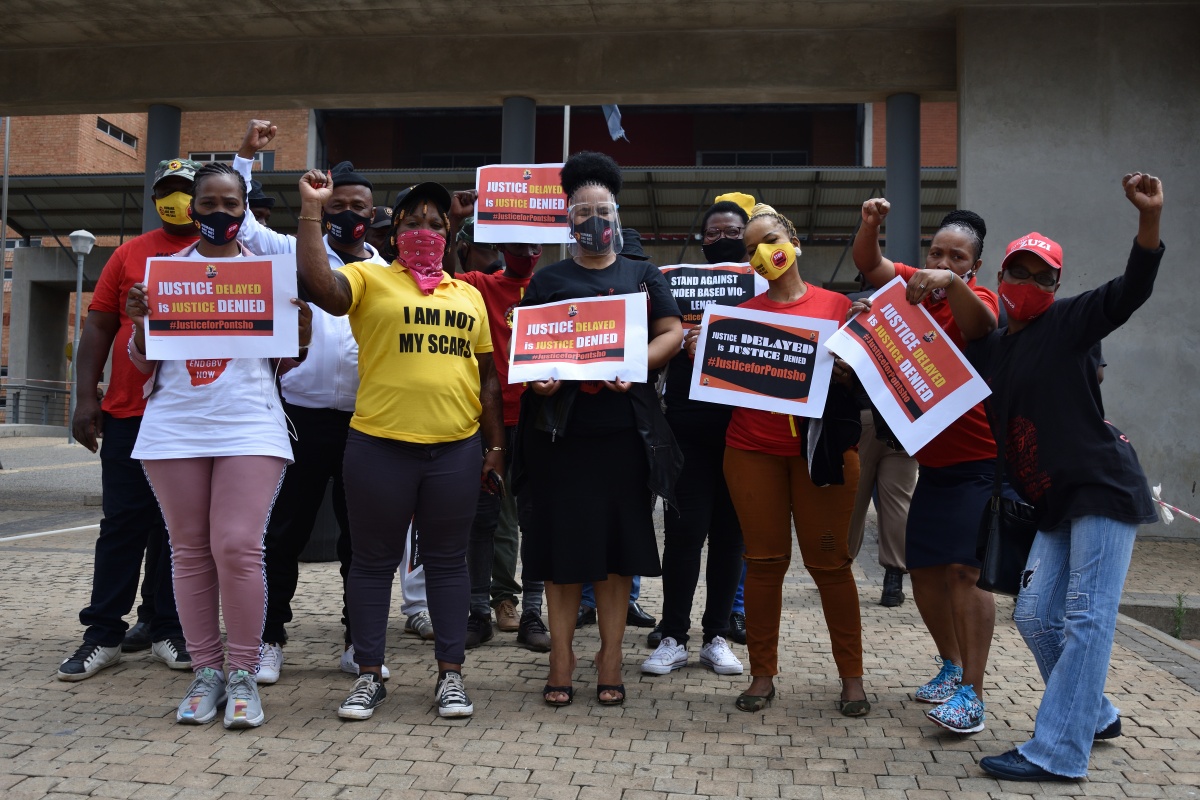 Ruth Ntlokotse, NUMSA 2nd deputy president, says:
"Besides the obvious extreme physical pain, comrade Pontsho has experienced intense emotional and psychological pain because of the trauma caused by the attack. Her suffering has been worsened by the fact that the wheels of justice have been terribly slow in her case."
Armelle Seby, IndustriALL gender coordinator, says:
"We want justice for comrade Pontsho and commend NUMSA for being an agent of change raising awareness, educating, and fighting against gender-based violence. As trade unions we must challenge the unequal power relationships and social norms that promote gender-based violence."
Photo caption: Pontsho in yellow t-shirt outside the Palm Ridge Court.