18 December, 2022The debate on human rights due diligence is gaining momentum on both national and international levels. Why now? 
Special report

From Global Worker

no 2 November 2022

  

Country: Global

Theme: Workers rights in the supply chain       

Text: Petra Brännmark
Human rights violations, including abuse of labour rights, are on the rise, as shown in the latest ITUC Global Rights Index.  Moreover, the pandemic and the current cost-of-living crisis have made many of the challenges in global supply chains even more evident. There is a need for strong regulation to effectively address and prevent violations of human rights and damage to the environment. The shocking rise in rights violations makes mandatory due diligence a top priority for trade unions. Voluntary codes of conduct and other unilateral approaches are first and foremost tools of public relations and have lost all credibility. 
According to IndustriALL assistant general secretary Kemal Özkan, very few companies have demonstrated a real willingness to adequately comply with workers' and trade union rights on a voluntary basis. 
Trade unions are one of the main drivers of the campaign for binding due diligence legislation and transparency in the supply chains.  As representatives of workers who are the victims of rights violations all along the supply chains, unions have to be at the forefront of the debate and put all their weight to ensure they are involved in the design and implementation of due diligence policies. Workers and trade unions know the reality on the ground and are best placed to help identify, understand and address human rights risks. Their participation in the process is critical to ensure that due diligence laws and other instruments deliver for workers.  
"In fact, no due diligence approach can claim to be credible without the full involvement of workers and trade unions to safeguard freedom of association, collective bargaining, and health and safety.  Due diligence is part of the industrial relations system as a means of engagement through collective bargaining agreements, global framework agreements, protocols and any other negotiated document. It is an important tool for unions to achieve their main objectives, that is to defend and promote workers' rights and interests,"
says Kemal Özkan.
The role of unions was obvious in the recent German act on corporate due diligence obligations to prevent human rights violations in the supply chain, the Lieferkettensorgfaltspflichtengesetz, adopted in 2021. Unions and worker representatives have managed to ensure that German works councils be more involved in human rights risk management in the future, and the German Works Council Act was amended to that end.  
In 2017, France became the first country to adopt a law on 'duty of care' or due diligence. For the first time, this ground-breaking legislation establishes a criminal relationship between the parent company of a multinational corporation and its subsidiaries and subcontractors in the event of human or environmental rights violations. In short, it seeks to prevent large companies from hiding behind their status as buyers. It should include an alert mechanism that collects reporting or existing risks, developed in cooperation with the trade unions in the company concerned.  
"Due diligence is a leverage for trade unions to ensure that workers' rights, especially the right to organize, are upheld in companies and along the whole supply chain," says Kemal Özkan.  
Global framework agreements (GFA) are tools for organizing and union building, incorporating the concept of due diligence set down in the UN Guiding Principles on Business and Human Rights.  By signing a GFA, a multinational company accepts responsibility to protect and respect fundamental workers' rights, in particular the right to organize and bargain collectively, and to exercise due diligence concerning the impact of its operations on human rights in its production facilities and along its supply chain. GFAs are largely used to resolve problems, especially along the supply chains. In case of a conflict, for instance on organizing, GFAs can help provide remedy.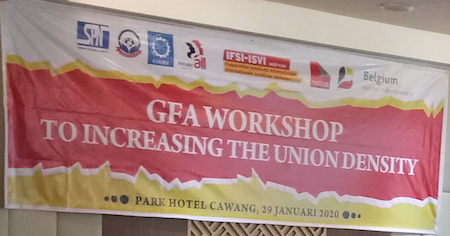 Over a two-year period IndustriALL affiliates in Turkey and Bangladesh have successfully organized more than 50 supplier factories as part of a programme to effectively implement global framework agreements. 
Trade union networks that connect unions from different countries within a same company are also important action and coordination instruments that can help support organizing drives. Strengthening these networks is critical to ensure that companies respect the rights of workers in all countries where they operate and undertake human rights due diligence in their supply chains. 
The battery supply chain can be used as an example for demonstrating the globalization of the production process and how existing laws and other instruments, like the OECD due diligence guidelines, can be used for advancing human rights in business. 
The battery supply chain starts with the mining of raw materials like lithium, through the chemical industry with the refineries, to the end-users. It is the fastest growing supply chain, fueled by the increasing demand for electric vehicles.  Moreover, every region makes up different part of the battery supply chain, with lithium production in Latin America, most mining done in Africa, new battery investments in Asia and investments in electric vehicles in Europe and the US.  Workers' rights violations are rising in parallel, in particular further down the supply chain where union density is low and the environmental impact devastating. 
IndustriALL has embarked on a project aimed at developing an integrated supply chain approach and achieving decent work for all workers associated with the battery supply chain. 
"We have to ensure that battery production not only supports green energy, but also safeguards human rights and promotes health and environmental sustainability," says Kemal Özkan.  
"This means that we need increase our leverage along the battery supply chain. As part of that approach, IndustriALL is building union capacity through developing effective due diligence tools to organize workers, creating platforms with multinational companies, developing communications with world's largest battery producers in China, ensuring that gender is integrated in union activities, and focusing on sustainable industrial policy and just transition."
In 2013, the ILO Governing Body, motivated by concerns regarding the rapid expansion of global supply chains across borders, decided to place global supply chains on the agenda of the International Labor Conference.  In 2016, the International Labor Conference adopted a resolution concerning decent work in global supply chains. The resolution formed the basis for the development of a programme of action, with a roadmap for implementation. Several technical meetings have taken place to address core elements of a comprehensive strategy on decent work in supply chains, likes decent work in export processing zones, cross-border social dialogue, decent work deficit in supply chains.  
"But so far, progress, if any, has been very slow. We see a huge resistance from employers although most governments are very supportive for a normative action in this field. There is a big risk that the ILO looses its relevance, even though it should play a central role in global governance system in the whole debate of global supply chains," says Kemal Özkan. 
"IndustriALL will increase our efforts and continue to pressure for the adoption of an ILO convention on supply chains, which would be key for the global labour movement."