20 May, 2020Workers at two Nissan auto plants in Barcelona are on indefinite strike due to a lack of clarity about the future of Nissan operations in Spain.
The Barcelona factories shut due to the coronavirus lockdown in mid-March, and partially reopened on 4 May, only to be hit almost immediately by strike action over a failure to confirm a commitment to maintaining employment levels.
The workers are striking due to reports, particularly in the Japanese media, that Nissan intends to reduce its staff by 20 per cent globally, and shut the Barcelona plants. There are fears that Nissan intends to shut all its European plants.
Nissan unions have been in communication with the company since last year about the global business plan and the future of the factories in Spain. These are still under consideration and no decisions have been communicated. European works council representatives confirm that they had not been consulted on any restructuring plan.
Nissan management has guaranteed the production of current models until the end of 2020, but not the volumes to be produced, and has rejected a commitment to guarantee the current level of employment. Production has already been reduced in Barcelona, with four models removed from production over the past two years.
If the Barcelona production centres at Zona Franca, Montcada and Sant Andreu de la Barca close, three thousand direct jobs and nearly twenty thousand indirect jobs are at risk. Two production centres outside Catalonia, Ávila and Corrales de Buelna in Cantabria, are also potentially threatened.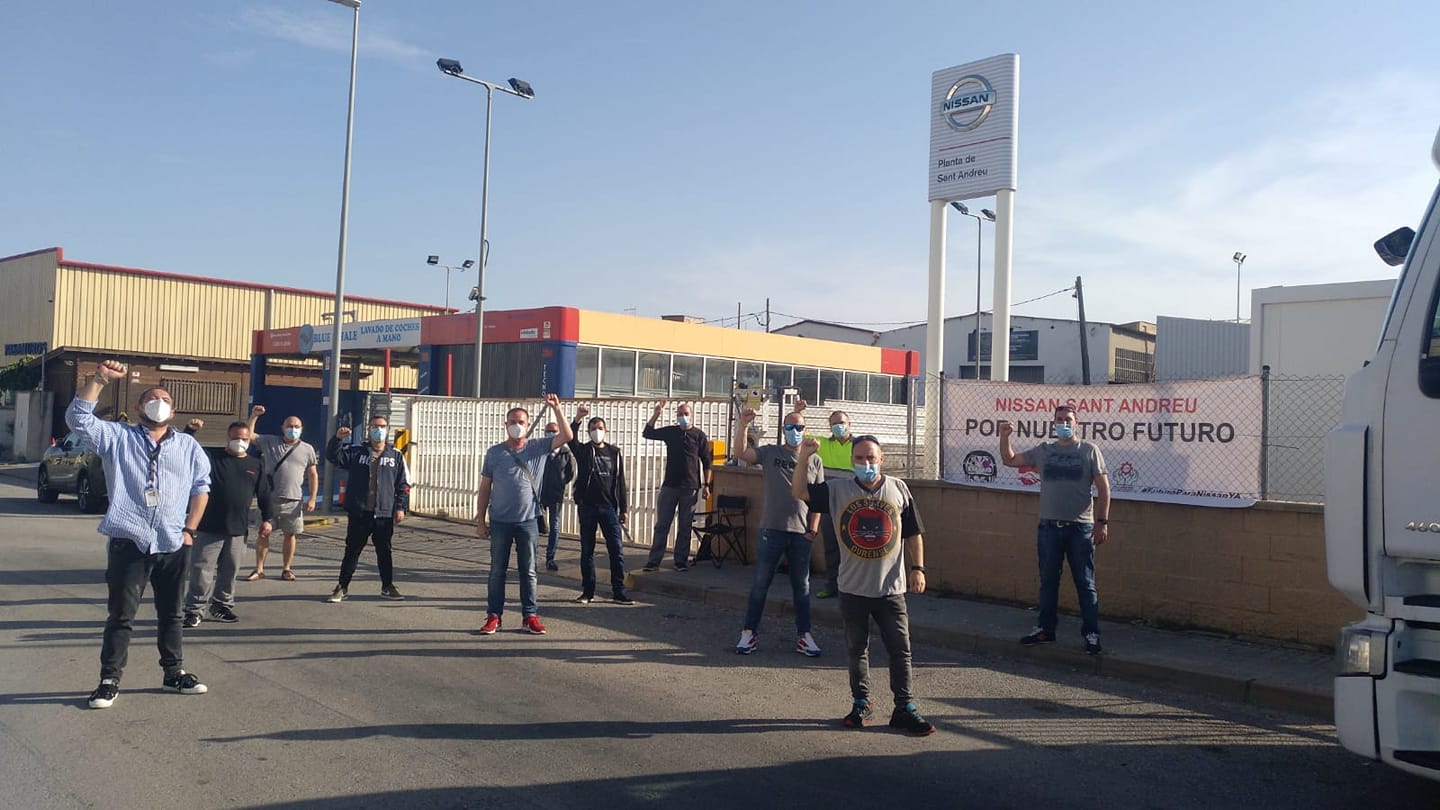 Nissan workers embarked on indefinite strike action at the Zona Franca and Montcada sites on May 4, following the failure of mediation on April 30. The strike will continue, pending an announcement by Nissan of a mid-term management plan and financial results on 28 May. The unions are taking strategic industrial action by only striking in smaller production areas. Only 40 employees are on strike, but this is enough to halt production.
IndustriALL auto sector director Georg Leutert said,
"If these plants close, Catalonia will lose 100 years of industrial heritage. It is important that Nissan communicates honestly with its workforce, and brings its plans to the bargaining table. The failure to communicate is causing great concern, not just in Spain, but across Europe."
Three IndustriALL affiliated unions represent the Nissan workers: Federación de Industria de USO, UGT Federacíon de Industria, Construccíon y Agro and CC.OO de Industria.
In a joint letter to the affiliated unions, the general secretaries of IndustriALL Global Union and industriAll European Trade Union,  Valter Sanches and Luc Triangle, expressed their solidarity and called for management to return to the negotiating table.
Spanish unions warn that the closures will have negative consequences for the company's image. If Nissan goes ahead with Europe-wide closures, it will become the second Japanese auto company, after Honda, to pull out of Europe. If Nissan does pull out of Spain, unions have expectations that Renault, as part of the alliance between Nissan, Renault and Mitsubishi, will help, as the Ávila Nissan plant already produces Renault parts. However, the alliance is in deep crisis, with speculation about its immanent breakup.