15 June, 2020With the exception of the Boeing 737 Max crisis, only a few months ago there was nothing but blue skies for the global commercial aerospace industry. Pure growth was on the horizon, but instead Covid-19 has brought one of the most severe crises in decades.
REPORT
National lockdowns and travel bans have had a tremendous effect on aviation. Over the last eight weeks, around 80 per cent of all commercial airplanes have been grounded with enormous negative effects on the financial situation of most airlines. 
Unless governments intervene, there will be insolvencies. Even if the worst can be avoided, there will be job losses at airlines, maintenance and airports but also in the aerospace manufacturing sector, as orders for new aircrafts are delayed or cancelled.
News of severe job cuts are almost daily; the most prominent so far are 9,000 jobs at Rolls Royce; around 10,000, or 25 per cent of the entire workforce, at GE aviation; 16,000, or 10 per cent of the workforce in the commercial aircraft sector at Boeing; and some 5,000 jobs at Safran. 
The massive reaction by the companies indicate that the market will not make a quick recovery. Initial forecasts speak about five years as a minimum for the sector to recover to pre-Covid numbers. Why will it take so long? Shouldn't the sector get back on its feet once the restrictions related to Covid-19 are fully removed?
What else is behind the turmoil? The current crisis reveals a number of issues that existed before and have now turned into real problems. 
Unions need to be actively involved in resolving the current crisis, and as the sector has become more global in the past ten years, global union cooperation and social dialogue are of key importance for sustainable and just future strategies.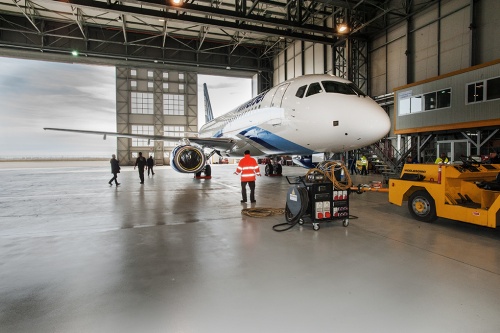 What are the key issues?
Highly capital-intensive
Commercial aerospace is a capital intensive industry with a limited number of big actors. While the development of a new aircraft is a two-digit multi-billion-dollar business, profit margins remain low, at around 2-4 per cent. 
For major suppliers, particularly at propulsion manufacturers, profit margins are far higher. The reason for this is less in engine production, but in the highly profitable maintenance, repair and overhaul (MRO) operations on the aftermarket.
The huge financial dimensions are reflected on the balance sheets of the airlines. Not long ago some airlines spent billions of dollars every year to renew and/or grow their fleet as they were sitting on considerable profits. Today, after an eight weeks' Covid-19 stress test, many of the same airlines are close to insolvency.
Never-ending duel between Boeing and Airbus
The commercial aircraft industry is dominated by the two archrivals Boeing and Airbus. When Airbus took over large parts of Bombardier and Boeing was close to doing a similar deal with Embraer this duopoly seemed even further consolidated. 
Another important chapter of the duel is the ongoing allegations regarding unfair business practices and illegal state aid/subsidies related to large civil aircrafts. Since 2005, the US and the EU/the four countries with major Airbus operations, France, Germany, Spain and the UK, have invested considerable resources in a related dispute at the World Trade Organization.
Today, after the Covid-19 shock, both companies are confronted with a new situation. Instead of adding new contracts to their full order books they find themselves having to make concessions to sell aircrafts. Both operators are forced to accept deferrals and cancellations, as it could otherwise provoke bankruptcy of their main customers. 
When two quarrel, a third rejoices
In the shadow of the duel, and partly with their indirect support, a third competitor has emerged, Chinese state-owned COMAC. Although experts say that the new manufacturer will still need some time to be fully competitive at an international level, there is a good chance for COMAC to win future business in China and Asia, which is forecasted to be the strongest future growth region.
Moreover, we shouldn't forget that the Brazilian Embraer is now an independent manufacturer again with an important presence on the market. The Russian aerospace industry has the potential to play a more important role in the future, partly in cooperation with COMAC on the joint CR929 project (twin-aisles long distance jet). And Mitsubishi also has strong ambitions to become an important player in the regional jet market.
An unrealistic growth scenario? Certainly unsustainable!
The pre-Covid growth scenarios of the aerospace industry were based on five assumptions:
The global middle class will grow, particularly in Asia, and create an additional high demand for air travel
The economy will continue to be highly globalized and a long-term high demand for business travel is a given
The number of regional airports will continue to grow and will increase air traffic
Based on customer preferences, air travel via hubs will be more and more complemented, and partly replaced, by more direct connections
The co-existence of network airlines and low-cost carriers is economically viable and will guarantee continued growth
Today, a number of these assumptions are less realistic. 
Video conferences and teleworking will partly replace (business) travel
Forced to work from home, many business travelers have discovered the advantages of video conferencing: nearly no technical issues, far more time flexibility, cost savings etc. 
Unsustainable business models
Now, network airlines admit that many of their national flights are not profitable and that they would be happy to replace them by fast train connections
The low-cost flight market is barely profitable
The competition between network and low-cost airlines is partly destructive
Going green – aerospace is far behind
Industries without a viable strategy to significantly reduce their carbon footprint are not sustainable and will go out of the market. Industries who are not serious about their strategies and fool customers and governments lose credibility and will come under increasing pressure to reform. 
Learning from the car industry, the aerospace industry should intensify efforts to make air travel cleaner and greener. That the carbon emissions of modern commercial aircrafts are 40 per cent lower compared to the former generation is hopefully a figure based on facts and not wishful thinking. So far, there has been no break-through technical solution to power an aircraft without kerosene. Electric motors could be applied to reduce emissions e.g. during taxiing on the ground, but the improvement will be rather marginal.
Aviation has to be fully integrated into future multi-modal transport concepts. The promotion of more direct flight connections combined with a lower utilization of the hub concept is not a green solution. The same is true for a policy aiming at growing the number of regional airports even more.
When will Covid-19 restrictions end? 
The coronavirus is a severe threat to the future of commercial aviation. Apart from the uncertainty of when confinement measures will be fully lifted and of if there will be further waves of Covid-19, the most important question is if and when passengers will accept to sit closely together again. 
A global industry that is only starting to develop global structures
Although sales, operations, maintenance, repair and overhaul of aircrafts are fully global businesses, the manufacturing networks and supply chains are less globalized. Outsourcing production to low-cost countries, mainly Mexico and the MENA region, begun at a low scale about 20 years ago. Global supply networks have grown considerably since then, including huge research and developments operations in India, but there is a lot more to come.
ACTION PLAN
Improve global trade union cooperation and dialogue with the companies
From a trade union perspective, the sector still lacks a genuine global approach. There are no real global trade union networks (TUN) at company level and it would be advantageous with more global framework agreements, in addition to the existing three with Airbus, Saab and Safran. 
The fast exchange of information and even some coordinated joint action that are key features in many auto TUNs for example, would be beneficial for the aerospace sector and would have helped during the current crisis.
Lobby governments and join forces with the International Transport Federation
Unions must work with governments to create a scenario that helps to stabilize the current situation and to work jointly on a sustainable industrial strategy for the sector. IndustriALL Global Union and the International Transport Workers' Federation intend to join forces and work more closely together. Both federations will establish a joint working group and will work together on an important research project.
Focus more on emerging economies
As many aerospace companies are still in the process of growing its global presence and as supply chains become more global, IndustriALL Global Union will increase its efforts to build and support trade unions in emerging economies, in particular in the MENA region, India and Mexico. Subject to Covid-19, the sector steering committee intends to hold an important conference in the MENA region by the end of 2020.