8 September, 2020393 miners at four mines belonging to the Kryvyi Rih Iron Ore Plant are protesting underground, demanding a wage increase, better working conditions, and pension preferences due to difficult working conditions. Other demands include an end to workplace safety assessment violations, and that management, which is driving the company into a crisis, is dismissed.
29 miners have been protesting inside the Oktyabrskaya mine since 3 September. During this time, they have been exposed to harsh conditions with high levels of humidity and spreading fungus. Protesters are already reporting negative effects on their lungs and skin.
As management did not respond, on 7 and 8 September, 214 miners at the Rodina mine, 90 miners at the Gvardeyskaya mine and 60 miners at the Ternovskaya mine joined the underground protest.
The protests are widely supported on the surface. Since 5 September, hundreds of Kryvyi Rih miners and residents have held daily solidarity protests.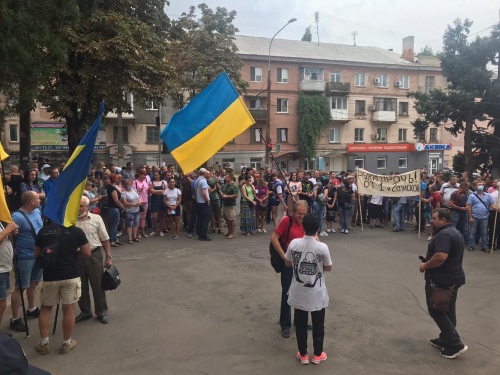 On 5 September, Sergei Novak, general director of Kryvyi Rih Iron Ore Plant, addressed the protesters in the street, and also went down the Oktyabrskaya mine to talk to the underground protesters for 1,5 hours.  However, since then the management has been silent.
Mykhailo Volynets, chairman of the Independent Trade Union of Miners of Ukraine, is calling on management to engage in social dialogue as soon as possible, as staying down the mine for a long time can have a negative effect on the miners' health.
Ukrainian miners are fighting hard to bring attention to their challenges. On 5 September, coal miners came back to the surface from Nadezhda mine in Lviv region, where they held an underground protest for eight days demanding payment of wage arrears of UAH 61,54 million (US$ 2.2 million) that the state-owned mine owe them since March.
Kemal Özkan, IndustriALL assistant general secretary, says:
"We support the demands of the Ukrainian miners. We call on state authorities to pay all wage arrears to coal miners, and the Kryvyi Rih Iron Ore Plant management to engage in a social dialogue with unions to resolve the critical situation as soon as possible and avoid the dangerous underground protests in the future."