31 May, 2022The Finnish paper workers' union Paperiliitto was formed in 1906 and counts 13,000 active members, 32,000 including retired members. The union represents 97 per cent of all workers in the country who manufacture paper, pulp and paperboard or work in paper processing. 
UNION PROFILE

From Global Worker No 1 June 2022

Country: Finland

Union: Paperiliitto

Text: Petra Brännmark, Walton Pantland
Covering nearly all workers in the sector – and managing to maintain the organizing rate – means that Paperiliitto is well represented in the country's paper mills and is well placed to negotiate and push for its members working conditions. 
The union work takes place mostly in good conditions, with a smooth dialogue with the employers. However, a drawn-out strike which lasted for 112 days and ended in April this year presented an unusual situation for the union. 
The strike was unprecedented in size in the sector in Finland and was caused by the anti-union beliefs of Finnish forest industry company UPM's executive management, determined to break union power held by its blue-collar employees, members of Paperiliitto.
The build-up to the conflict started in early 2021, when Finnish forest industry company UPM announced that it would no longer negotiate collectively on wages, bonuses, sick leave pay, maternity or paternity leaves thus violating its workers fundamental rights at work. 
As the contract was to expire at the end of 2021 UPM left the industry-wide bargaining that had been in place for decades and refused to sign a single collective agreement with the union. Paperiliitto announced a three-week strike starting in January 2022. The strike however dragged on and 2,200 workers at all UPM business units were on strike, with dockers and railway workers showing solidarity by refusing to handle the company's goods.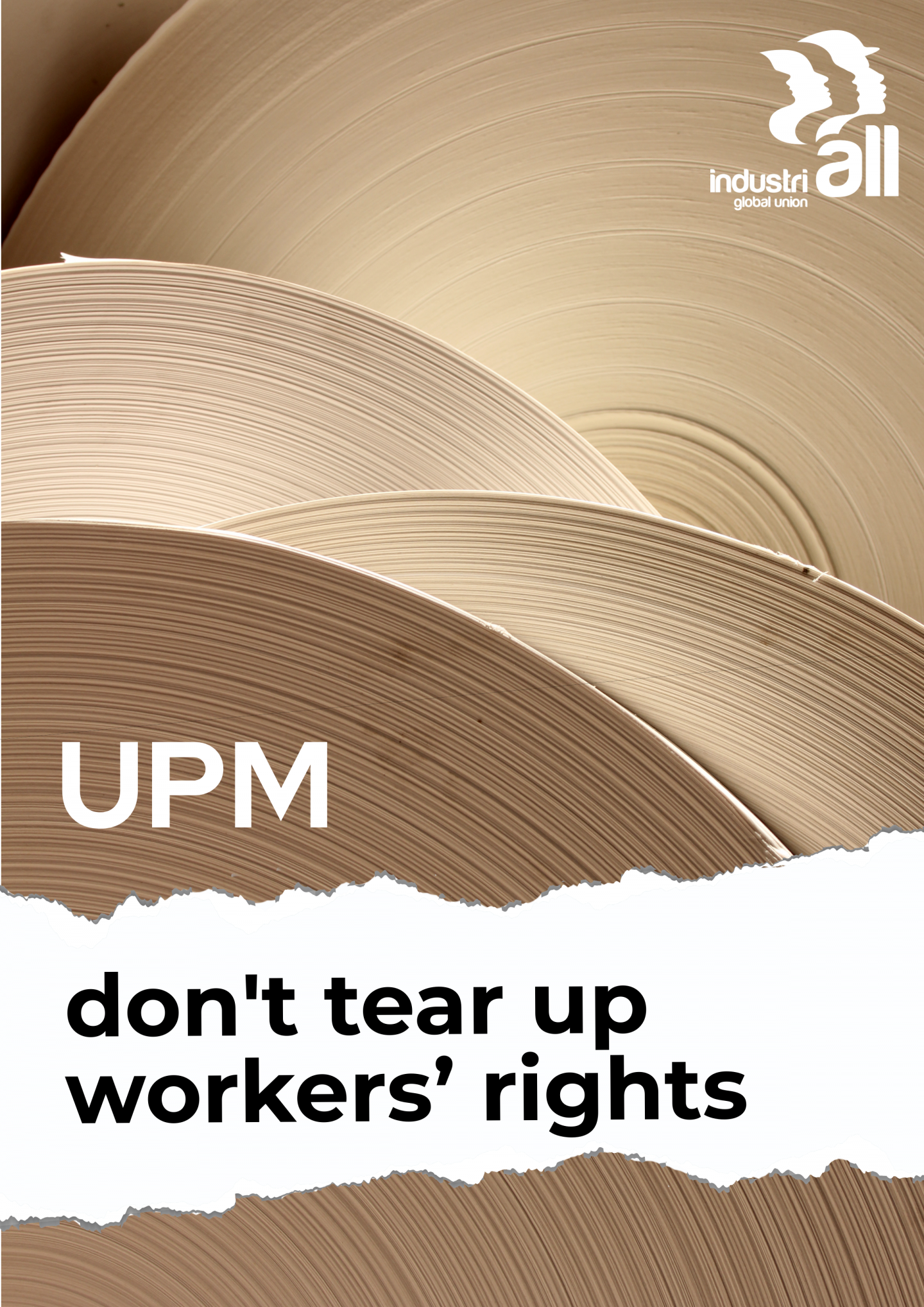 The striking paper workers in Finland received international solidarity, with unions organizing the company's plants, and the Uruguayan paper workers' union FOPCU – also an IndustriALL affiliate – writing to UPM's CEO expressing concern at the company's retreat from good practice in industrial relations.
IndustriALL, Uni Global Union and Building and Woodworkers International wrote a letter to UPM's 20 biggest shareholders and investors ahead of the annual general meeting on 29 March, to warn that the company's anti-union stance was an investment risk.
In April, the conflict was resolved with both parties accepting a final proposal of the National Mediator. Under the proposal, five separate collective bargaining agreements are signed, one for each industrial segment of the company, with a duration of four years and salary renegotiation after two years.
Paperiliitto members at UPM returned to work on 23 April after 112 days of strike that brought the company to a standstill at all sites in Finland. The management attack failed to destroy the union, failed to break the collective bargaining system, and failed in its attempt to set pay and conditions unilaterally without Paperiliitto representing workers.
Petri Vanhala, Paperiliitto president, says: 
"Under these circumstances l am satisfied with the outcome of the negotiation process. Our union stood firm against the employer's demands; the strike lasted 112 days, but we held the line. Paperiliitto was greatly assisted by the efforts of both international and Finnish trade unions."