17 May, 2022As the war in Ukraine continues, trade unions from other countries are showing solidarity with workers and unions.
Last month, the Swiss trade union confederation (SGB) adopted a message of solidarity with "inhabitants, workers and unions of Ukraine", demanding an immediate end to the war. The Swiss trade union centre Solifonds has transferred donations of 20,000 CHF (US$20,000) to unions in Kryvyi Rih, and are collecting more money.
 
German steelworkers are supporting colleagues running ArcelorMittal's steel mill in Kryvyi Rih, Ukraine. The ArcelorMittal works council in Bremen, Germany has collected money for emergency power generators, power banks and dressing materials. Two deliveries to the Polish-Ukrainian border have already two taken place. In addition, the Belgian unions at the plant in Gent have also sent urgently needed goods.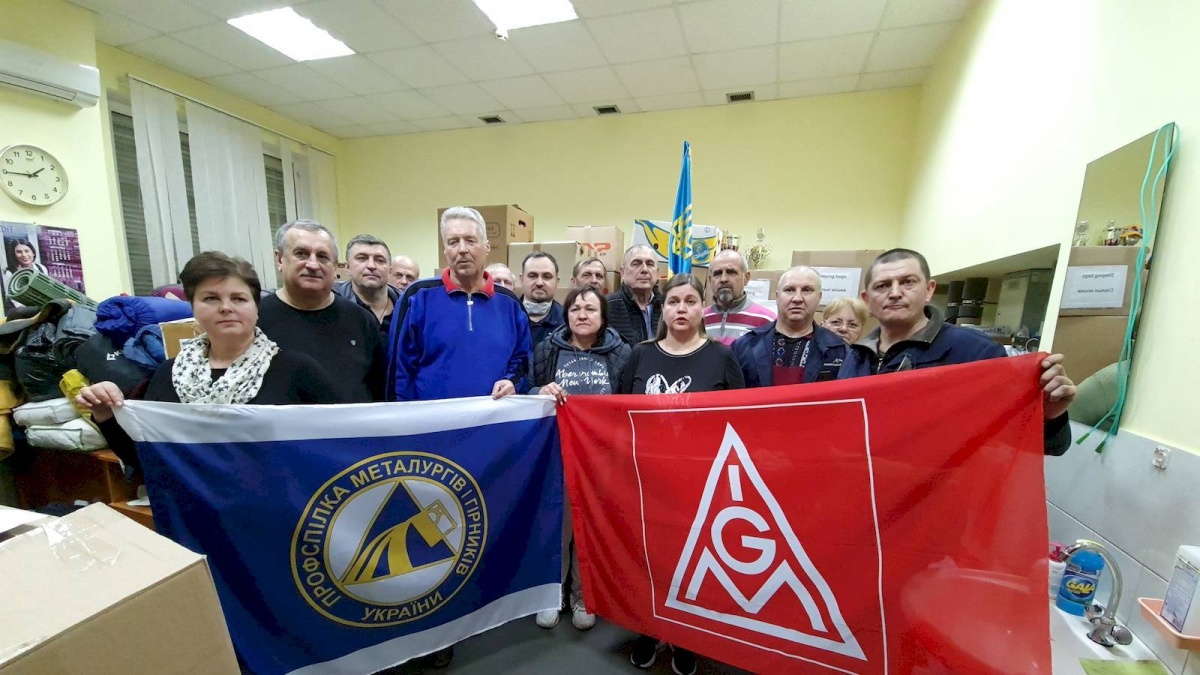 Currently a large part of the male workforce is defending the country and women are keeping the mill running. Together with her colleagues Elena Pantyuch and Tatjana Prizkau, Natalya Marynyuk, president of the ArcelorMittal Kriviy Rih company union, is fighting to get the blast furnaces in the steel plant up and running again as soon as possible as people need work and wages. This is a challenging task, not only as part of the top management has left the country, but also as Kryvyi Rih is full of refugees from the war zone.
 
Says Natalya Marynyuk:
"We have to pitch in and help our people who are drafted. Some of the workers have already fallen. Your help and support give us courage and hope in difficult times. We will not give up."
Moldova is experiencing an influx of refugees from Ukraine. The Council of National Confederation of Trade Unions of Moldova have opened refugee centres in three trade union resorts.
"The sanatorium accommodates mainly mothers with children. We provide them with accommodation, three meals a day, hot water. Security is on duty 24 hours a day and is ready to help if necessary. We are seeing an extraordinary mobilization of the population that is connecting and helping us,"
says the director for one of the refugee centres.
 
IndustriALL affiliate, the Federation of Chemical and Energy Workers' Union of the Republic of Moldova (FSCRE), has offered financial support to the centres for heating, as well as food and clothes.
 
Says Irina, a refugee from Ukraine:
"We are from Odessa. We got there with difficulty. There were long queues at the border. Through social networks, we found a group of volunteers who brought us to this sanatorium. They help us at every step. People are open and friendly. Every second I want to say a big "thank you" to the Moldovans for their warmth in these difficult days for us."
There are many stories from IndustriALL affiliates in Poland, Hungary and other countries on solidarity action. Eight unions in France have joined forces and are sending supplies such as medical equipment, industrial washing machines, kitchen equipment and 2,600 blankets.
A big number of affiliates have also given substantial financial support, both through IndustriALL and through humanitarian organizations in many countries. IndustriALL has managed to forward a first financial aid package to Ukrainian affiliates.