2 March, 2023The OECD forum on due diligence in the garment and footwear sector in Paris, France, in February brought together governments, businesses, unions, civil society and academia to discuss the responsibility that companies have to identify, prevent, mitigate and account for their adverse impacts on human rights.
In the keynote address, Nazma Akter from IndustriALL affiliate Sommolito Sramik Federation in Bangladesh, spoke about the need for systemic change in the industry, where the brands have the most power and the workers the least.
"We made your clothes. We don't want charity; we want respect and dignity. Workers should not be begging; we need to be able to make a living. We respect the business, but the business must respect the workers."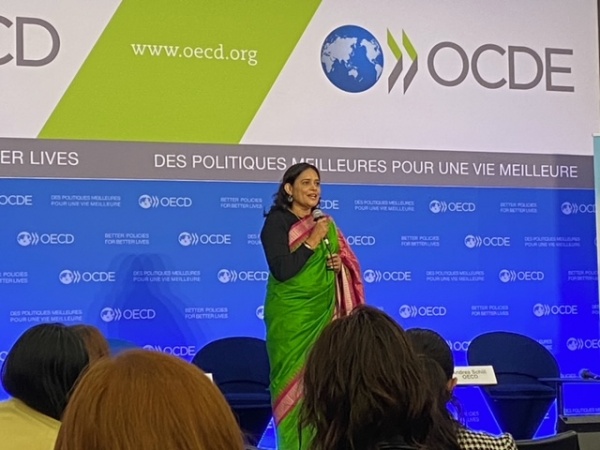 Trade unions have an important role to play in due diligence, as workers need to be aware of their rights. The guidance further recommends that for global brands and their suppliers to do due diligence there needs to be meaningful engagement that is two-way, conducted in good faith and responsive. Further workers need to be provided with truthful and complete information and they need to provide input prior to major decisions being made that affect them.
Multiple speakers called on the industry to discard the failed social auditing approach, where companies hire external, private parties to conduct inspections of supplier factories. The imperative now is to move towards a model based on human rights due diligence. IndustriALL called on brands and suppliers to engage in collective bargaining to solve systemic problems in the global supply chain.
There were discussions around the difficulty in building processes for due diligence in countries lacking traditional social dialogue, as it is a key tool for due diligence. Without independent unions, there cannot be due diligence. This issue took centre stage on the last day of the forum when due diligence in conflict-affected and high-risk contexts were discussed.
"Trade unions are at the centre of the fight for democracy,"
said IndustriALL textile and garment director Christina Hajagos-Clausen, raising the issues workers and trade unions in conflict areas face.
"It is not a question of whether a company should stay or go, but if you can carry out due diligence in Myanmar. If a company's code of conduct requires respects for freedom of association, the circumstances in the country must be deemed unacceptable."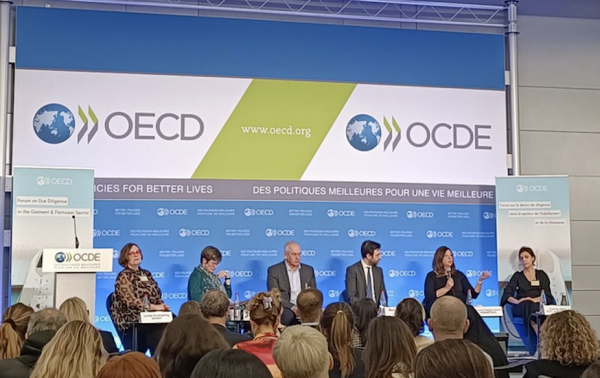 Wages in the industry have stagnated while productivity is on the increase. A minimum wage does not equal a living wage, which is a recognized human right. Several countries in the textile and garment supply chain don't have a national or sectoral minimum wage, and even in countries where it exists, it is not always complied with.
So what is needed to close the living wage gaps in the garment supply chains? Some of the sessions touched on initiatives that seek to address the imbalances and redistribute supply chain costs and profits more evenly. The brand-trade union collaboration through the ACT initiative specifically targets issues like purchasing practices and living wage, seeking to reach a living wage through sectoral collective bargaining.
On 14 February, IndustriALL hosted a side session at the forum on a new model of supply chain industrial relations for the industry. The panel discussion explored how collaborative agreements between global brands and retailers and global trade unions contribute to a new model of supply chain industrial relations, and how shared responsibility is needed to address gaps in global supply chains, such as a living wage and social protection for garment workers.
In another side session, hosted by the International Accord, IndustriALL together with suppliers from Bangladesh highlighted the positive impact of Bangladesh Accord. Its successor, the International Accord agreement provides enhanced transparency, has international and national trade union presence in decision-making and governance, ensures that the programme is financially feasible through brand contributions, contains a dispute resolution mechanism that hold brands and suppliers accountable and is legally binding on the parties.  
Health and safety in Morocco's textile and garment industry
Earlier in the month, IndustriALL and OECD National Contact Point in Morocco organized a side meeting on the challenges and perspectives of safety and health in textile, clothing, footwear and leather sector in Morocco, as part of the OECD Forum.
Representatives from the government, unions, employers, NGOs, the ILO, IndustriALL, brands and the Accord discussed the current health and safety situation in the sector in Morocco. Implementation of the labour legislation and agreements on the ground is a key challenge. All participants expressed willingness to engage in joint efforts supporting occupational health and safety as a prerequisite for decent work.
Naima Tchiche, from the Ministry of Employment said:
"The Ministry's national strategy for the advancement of health and safety is based on rehabilitation of the legal framework, strengthening and development of monitoring, promotion of the culture of accident prevention, and promoting social dialogue in the field of occupational health and safety. The dialogue led to overcoming many problems during the Covid-19 crisis."
"Accidents have happened at both local and exporting companies. The legislation contains the requirements, but implementation is stumbling,"
said Hassan Lachoubi, from the private sector employers' association Confédération générale des entreprises du Maroc (CGEM), and Moroccan Association of Textile and Apparel Industries (AMITH).  
Leaders from IndustriALL affiliates Larbi Hamouk, general secretary of Syndicat National des Travailleurs du Textile et du Cuir - SNTTC-UMT and Ahmed Hassoun, general secretary of Syndicat National de Textile Habillements et Cuirs - SNTHC-CDT, emphasized the need for sectoral social dialogue on occupational health and safety, especially in the light the tragic deaths of workers in Tangier in 2021 and Casablanca 2008.
Beatriz Cunha, ILO sectoral specialist, presented an overview of the ILO work programme on health and safety, discussing the ILO code of practice on safety and health for the textile and garment industry and urged the Moroccan social partners to work together on its implementation.
The International Accord enables the development of social dialogue at company level. Véronique Camerer, head of policy & accountability at the International Accord, said that the Accord feasibility study on Morocco is steadily progressing.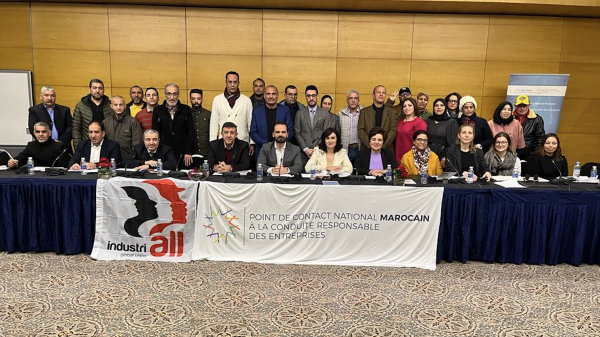 The meeting was a continuation of last year's meeting. Assia Besaad, head of the OECD NCP in Morocco, stressed the importance of finding a precise work programme on occupational health and safety.
A group to follow up progress on the joint sector work was created by the stakeholders.
Ahmed Kamel, IndustriALL regional secretary, said:
"Health and safety is not a luxury, it is something essential given the frequent accidents in the sector. We join the social partners in Morocco on the need for coordination and dialogue between all actors. It is a globalized sector with expanding production networks; understanding international tools is useful for the local social partners to really improve occupational health and safety."