22 October, 2019Two thousand workers have been on strike for a week at four Asarco copper facilities in Arizona, and one in Texas, after rejecting a four-year contract that would see no pay rise for most.
On 11 October, workers voted 77 per cent in favour of strike action at Asarco after rejecting the company's "last, best and final" four-year contract offer, which includes no wage increase for nearly two-thirds of workers, freezes the existing pension plan, and more than doubles the out-of-pocket contribution workers pay for health care.
Asarco, originally founded in 1888, is now a subsidiary of Grupo México. Workers are striking at the Mission, Silver Bell and Ray open pit copper mines in Arizona, a smelter in Hayden, Arizona, and a refinery in Amarillo, Texas.
The company emerged from bankruptcy in 2009, and workers made sacrifices during the downturn to sustain the company. They have seen no pay rise for ten years, and the company has attempted to renege on paying bonuses linked to the copper price that it owes to workers.
Last week, the Supreme Court ruled that Asarco owed workers millions in copper bonuses. The unions believe those bonuses could be worth as much US $8,000 per worker, totaling around US $10 million. The company's offer, which was rejected by the unions, aims to make it more difficult for workers to qualify for the bonus system.
The majority of the workers are represented by IndustriALL Global Union affiliate the United Steelworkers (USW). Other workers are represented by affiliates the Teamsters, Boilermakers (IBB), Machinists (IAM) and the UAW, as well as by the IBEW and IUOE. The workers have received solidarity support from other unions, including a delegation from Los Mineros in Mexico.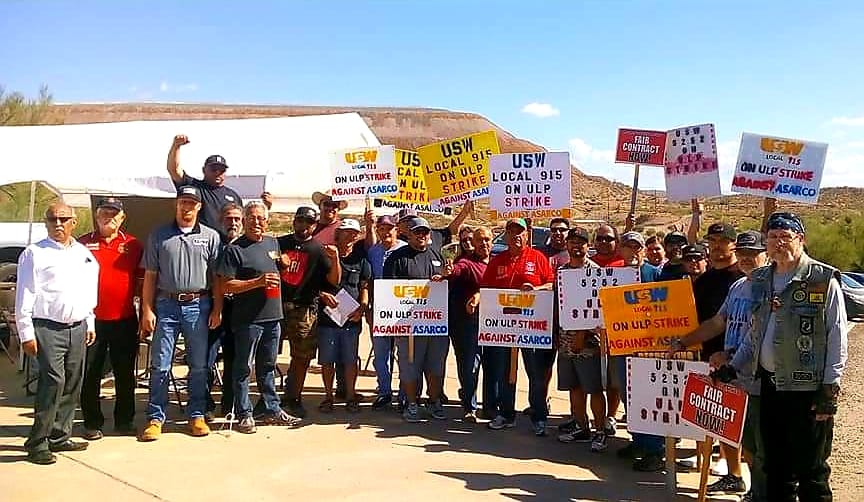 The previous contract expired on 1 December 2018, and the workers have been covered under an extension agreement on that contract, pending negotiations. However, after rejecting the company's "final" offer, workers voted on 11 October to take strike action. Picketing outside the company's facilities began late Sunday night on 13 October.
In a solidarity message to striking Asaro workers, IndustriALL general secretary Valter Sanches said:
"It is shameful that the company refuses to acknowledge your contribution, and it has not increased their wages since 2009, and the company owes workers millions in copper bonuses.

"Therefore, IndustriALL Global Union urges Grupo Mexico and its US subsidiary Asarco to negotiate with all the striking unions for a fair contract, and partake the profits of the company with the workers equitably, and reward them for their loyalty and sacrifices during the companies' hard times."