28 May, 2019In a significant victory for IndustriALL Global Union affiliate, the United Steelworkers (USW), a judge has ruled that a new union vote must take place at Kumho Tire in Georgia, USA, after it found the company violated workers' rights.
The judge also ordered South Korean-owned Kumho Tire to take action to repair the damage made by their violations at the workplace at the time of the previous ballot in October 2017.
USW narrowly lost the election by 28 votes, following a relentless campaign of intimidation and scaremongering at the Macon plant.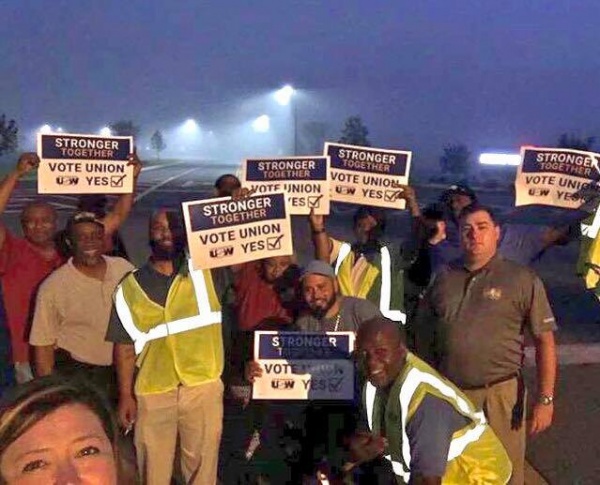 Consequently, the USW filed complaints with the National Labor Relations Board accusing the company of illegal conduct in its effort to suppress the union.
In his ruling on 14 May 2019, Administrative Law Judge Arthur J. Amchan wrote that the company's illegal conduct was "pervasive" and that it warranted not only a new election, but the "extraordinary" remedy of requiring company officials to read a notice to all of its employees outlining the specific ways in which they violated the workers' rights.
Kumho's violations, Amchan said, included illegally interrogating employees, threatening to fire union supporters, threatening plant closure, and creating an impression of surveillance, among other threats to workers.
The day after the union's initial election petition was filed in 2017, the company hired a firm of union busters, spending hundreds of thousands of dollars to attack the reputation of the Steelworkers. Seven full time union busters were employed.
Workers at the Macon plant were required to attend daily anti-union meetings that lasted for several hours, with managers telling them that the newly-opened factory would be forced to close if they voted for a union.
The Korean multinational is currently under control of Chinese company Quingdao Doublestar Group, and plant managers emphasized this to play on workers' fears.
IndustriALL and its affiliate, the Korean Metal Workers' Union (KMWU), which represents over 3,500 Kumho Tire workers in South Korea, have supported the Macon workers in their battle for union representation both before and after the October 2017 election.
IndustriALL's assistant general secretary, Kemal Özkan, said:
"IndustriALL congratulates the USW campaigners that have fought for a fair election at this workplace. We will stand alongside our USW sisters and brothers until Kumho Tire workers in Macon, Georgia win their first collective agreement."