11 October, 2022Working people everywhere are facing a cost of living crisis, with wage rises not meeting soaring inflation and rising energy costs, combined with attacks on unions and workers' rights. In the face of the growing inequality crisis, unions from the Philippines and Bangladesh to Tanzania and Peru, took action on 7 October, World Day for Decent Work, to demand a better future.
In Georgia, unions organized a photo exhibition in the streets to raise awareness about decent pay and inequality.
 
The Japan Council of IndustriALL Global Unions (JLC) held a seminar on the current situation where wages have not increased for 30 years, discussing solutions to eliminate the unfair distribution. The seminar was held as preparations for next year's wage negotiations are about to start.
 
JLC chair Takakura referenced the cost of living crisis as company earnings are increasing:
"It is the unanimous opinion of not only unions, but society in general that wage increases are an effective solution to combat high prices and eliminate inequality. This is an opportunity for us this year, as we prepare for the Spring Struggle. Now, the focus is on wages. If we workers cannot buy things through higher wages, the economy will not turn around."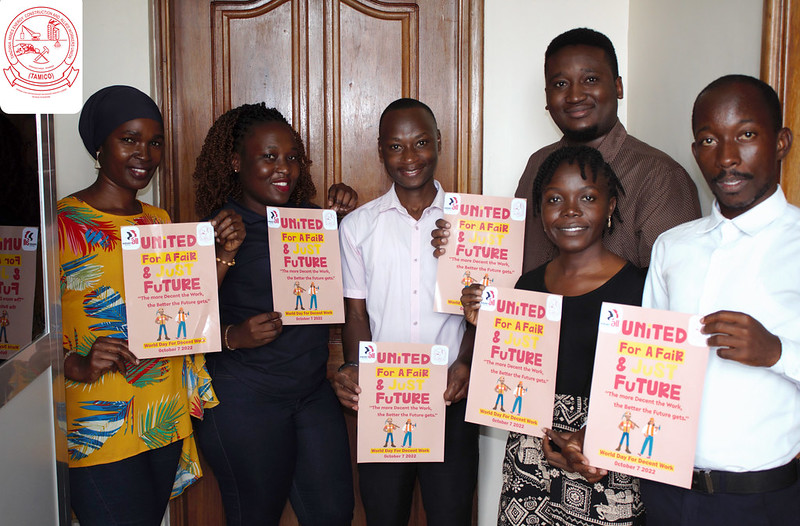 As unions in Iraq took action to inform workers of the decent work day, unstable contracts and wages, Alaa Odeh Hussein, president of General Union of Workers in the Electricity Sector, said:
"The fabric of our societies being torn apart, and people, societies and workers around the world are facing historical levels of inequality, in addition to massive unemployment, bad jobs and precarious contracts in the growing informal economies. As we try to get out of the health crisis imposed by the Covid-19 pandemic, we are caught in the grip of crises of the cost of living, energy and food security, and the climate."
Atle Høie, IndustriALL general secretary, says:
"Inequality is increasing everywhere despite the fact that international institutions and many governments warn against this development. As governments and politicians are failing to resolve the crisis, unions are stepping up, as we have seen in the actions taken around the World Day for Decent Work. I am proud to see that our affiliates are joining the call that enough is enough and that it is time to pay up."