5 September, 2022IndustriALL affiliate Federation of Free Trade Union of Workers of the Kingdom of Cambodia (FTUWKC) has been subjected to police intimidation during the nationwide minimum wage negotiations for the garment and textile sector.
As the Cambodian National Council on Minimum Wage (NCMW) kicked off tripartite negotiations on 2023's minimum wage in August, IndustriALL Global Union affiliates FTUWKC, Coalition of Cambodian Apparel Workers Democratic Union (CCAWDU) and Collective Union of Movement of Workers (CUMW), launched a campaign to demand a minimum wage of US$215.
On 1 September, police suspended production at the Shoe Premier factory 2 in the Takeo province, ordering FTUWKC to remove campaign postings from the union's Facebook page.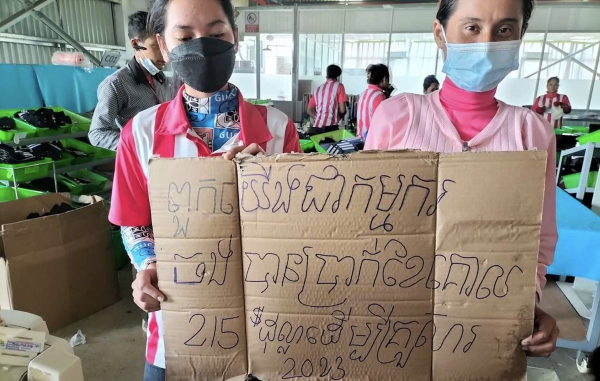 Police officers intimidated the local FTUWKC president Sao Thoeurn, demanding that she sign an agreement on not posting any more on Facebook that "can lead to problematic issues that affect society".
"This intimidation and harassment by authorities is unacceptable. We have the right express ourselves in the nation-wide minimum wage campaign. I urge the authorities to stop harassing FTUWKC,"
says Sokny Say, FTUWKC vice president.
The war in Ukraine and the subsequent energy crisis has significantly increased the cost of living for Cambodian garment workers. With the inflation rate surging to 6.5 per cent in the first half of 2022, Cambodian unions are calling on the government to increase the minimum wage in the country's textile and garment sector from US$194 to US$215.
"Cambodian garment workers need a minimum wage of US$215 in 2023. Profits in the sector continue to grow, and at the same the cost of living is rapidly increasing,"
says Athit Kong, CCAWDU president.
Christina Hajagos-Clausen, IndustriALL textile director, says:
"Unions in Cambodia are demanding an increase reflecting the increasing cost of living. IndustriALL supports the demand for setting the minimum wage in the textile and garment sector at US$215.

"But it is crucial that trade unionists are free to make their demands public and their freedom of expression should not be interfered with."