22 October, 2019Dozens of workers, community members, non-governmental organizations, police and other government departments, gathered at chemical manufacturer Johnson Matthey's (JM) factory in Germiston, Johannesburg, on 19 October, to campaign against gender-based violence and femicide, which has reached alarming levels in South Africa.
Music, poetry, and a six-a-side soccer tournament punctuated the event where the management, workers and communities signed the IndustriALL Pledge on stopping violence and harassment of women at workplaces and unions.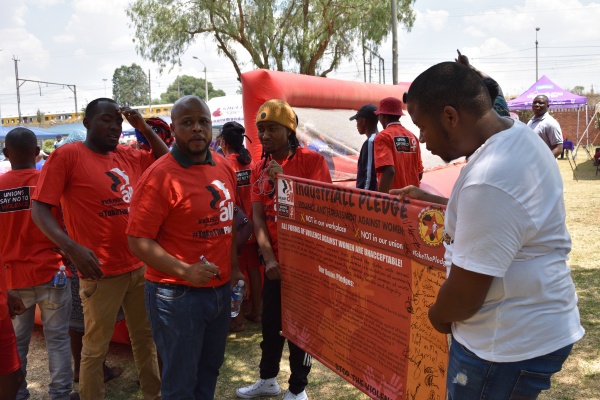 Ruth Ntlokotse, the National Union of Metalworkers of South Africa's Second Deputy President, and secretary of the IndustriALL Women's Committee South Africa, one of organizers of the campaign, said:
"The crisis of gender-based violence in South Africa requires that we work together to stop the scourge as trade unions, communities, government and social groups. Employers also have an important role to play because gender-based violence also happens at the workplace. With the murder and rape of women and children in their homes, gender-based violence is tearing families and communities apart. This explains the importance of supporting advocacy groups that target men to stop gender-based violence as they are the main perpetrators."
Ntlokotse, a chief laboratory chemist, has worked for JM for 22 years. JM, which has operations in 30 countries, employs 14,800 workers, and is a Financial Times Stock Exchange 100 listed company. Its products include emission and control technologies, chemical processes including oil and gas, battery materials, pharmaceutical and medical and metal chemicals and products.
Patrick Shai, a popular South African actor who has appeared in many television soapies and movies, and who leads the Khuluma Ndoda advocacy group, said:
"Women are living with lots of pain and in fear of getting stabbed with knives and being shot at with guns. So, we are saying to men: you can change and become better human beings. Loving doesn't make you a lessor person. Let's have that conversation and stop the violence against women."
A woman activist from the nearby community said: "Why are we being violated all the time and how can this be stopped? We get protection orders from the courts, but we are killed even when we are holding those protection orders. Women have suffered enough." 
According to crime statistics (2017/2018) from the South African Police Service 2930 women were murdered — which is about a death every three hours. This makes South Africa one of the most dangerous countries for women.