8 March, 2022The Covid-19 pandemic has worsened wage inequality around the globe and increased the time it will take to close the gender pay gap.
A need for an inclusive collective bargaining
The gender pay gap is the result of gender inequalities in society, the economy and the labour market. Recent legislation, like in Spain, takes a broader approach with compulsory development of equality plans for companies that analyse and respond to possible discrimination in recruitment, promotion, pay, health and safety, etc.
Through collective bargaining trade unions play a central role. Collective bargaining can be used as a tool to promote equality in the workplace and address many of the entrenched misconceptions about the role of women workers. Evidence shows that collective bargaining contributes positively to reducing pay inequalities between women and men.
Ensuring gender balance in decision-making, social dialogue and collective bargaining teams is key.  Women's positions in union leadership and presence on collective bargaining teams has a significant impact on the extent to which collective bargaining outcomes are gender sensitive. Many equality issues are only included in collective agreements when women participate directly in negotiations
Unequal distribution of unpaid work and childcare
The magnitude of unpaid work is huge. Substantive progress to close the gender pay gap cannot be achieved without effective recognition, valuing and redistribution of unpaid work between men and women, but also between families and quality care public services.
Over 70 per cent of unpaid care work is still done by women, and this amount significantly increases with the presence of young children in the household. On average, women's share of childcare is three times that of men's.
The unequal share of unpaid work and childcare comes back to old stereotypes where men are seen as the primary breadwinners and mothers as the primary caregivers. Tackling entrenched gender norms and stereotypes is a first step in redistributing responsibilities for care and housework.
The unequal distribution has a direct impact on the gender pay gap and contributes to the motherhood pay gap, as illustrated by the ILO.
Ongoing trade union campaigns show how investing in care – health, education, child and aged care and other social care services – is crucial in enabling women's effective participation in the broader economy.
Many unions in Europe have prioritized policies on the reconciliation of work and family life, including provisions of childcare to promote more equal parenting and to close the gender pay.
Based on the spirit of the Childcare and Family Care Leave Act, unions in Japan will discuss measures to promote active parental leave for fathers this spring. The aim is to promote the formation of a society in which men and women can participate together through child-rearing, which is currently biased toward women.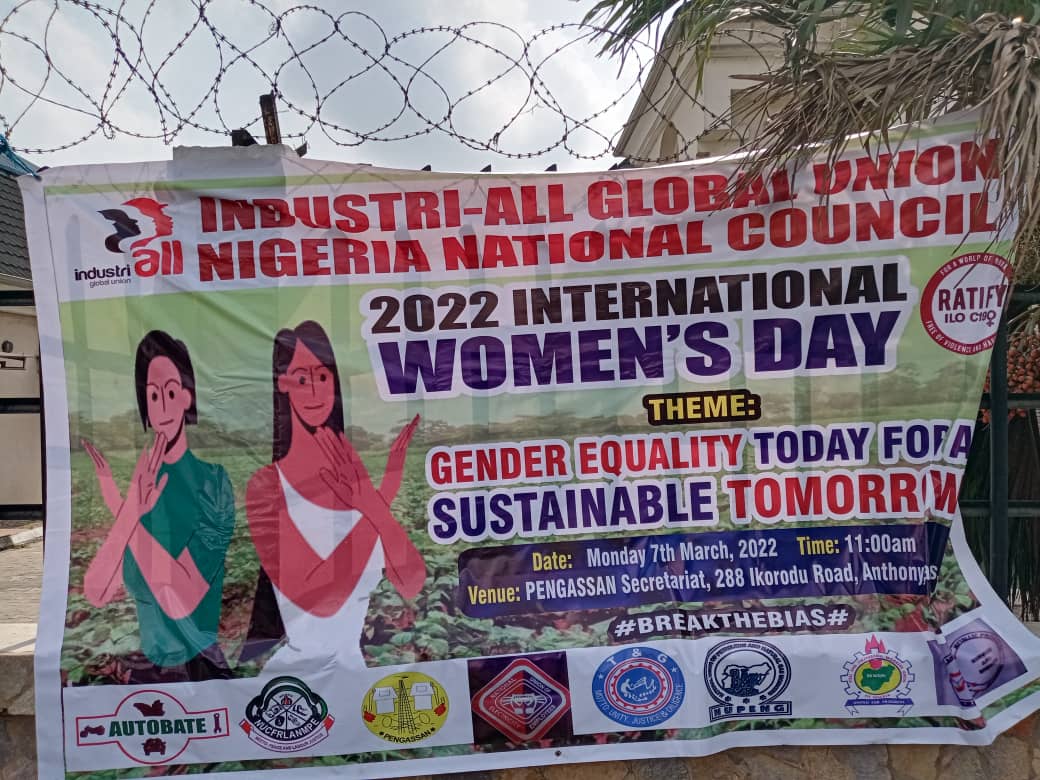 Undervaluing women's work
"As unions, we often believe that because we have bargained a wage grid, there's no gender pay gap; women and men performing the same job will be paid the same. But that is not enough as it does not automatically eliminate the factors that contribute to a gender pay gap, like occupational segregation, undervaluing of work that women are more likely to perform, unequal access to bonuses and allowances. We need to bring the value of the work carried out to the centre of negotiations,"
says Christine Olivier, IndustriALL assistant general secretary.
Social norms and gender stereotypes keep women away from the better paid industries and sectors, like sciences technology, engineering and mathematics (STEM). Women in these sectors face discrimination, making it professional development difficult. On average, their salaries are lower than that of their male colleagues. In the energy or ICT sectors, the wage gap globally amounts to 31 and 25 per cent respectively.
A recent report from Comisiones Obreras in Spain, shows that almost forty per cent of the monthly pay gap between women and men is found in allowances/bonuses. These additions reward typically male aspects of work, like physical effort, hardship and night work, while parts of work like attention, precision, endurance are not rewarded.
Pay transparency initiatives like equal pay audits and surveys can help highlight the low pay of work performed by women. The ETUC and European unions are calling for a European Directive making all employers produce pay information (audits) and annual action plans on pay equality, and supporting unions to negotiate with employers to tackle the pay gap.
Even more critical are  gender-neutral job evaluations and classification, as they address gender bias in assessing women work and fight against the historically undervaluing of women skills and work. Job evaluation schemes will perpetuate existing inequalities if they if they are not designed to address equal pay for work of equal value.
The Icelandic Equal Pay Standard is widely regarded as a best practice of how equal pay for work of equal value can be achieved. The employers should show evidence that a uniform and non-discriminatory system has been established for comparing jobs through a job classification and job evaluation ranking system, across four main criteria: expertise, responsibility, effort, and work environment, and sub-criteria must be formulated and weighted in ways that are relevant to each company or institution.
It is crucial to take the gendered nature of wage setting into account, otherwise collective agreements will continue to institutionalize and legitimise the undervaluation of women's work.
Trade unions, like USW in Canada or Unite in UK, have developed guidelines on what to bargain on in order improve, existing legislative provisions with regards to pay equity, equal pay surveys or gender-neutral job evaluation.
Vulnerable categories of workers
In many countries women in the informal economy represent the majority of women workers. Campaigns and negotiations towards universal social protection for everyone are key in closing the gender pay gap. Working with other social partners is important as the formalization of the informal economy will help in building a conducive environment for collective bargaining.
Key for closing the gender pay gap is to ensure women's decent work and to address women's disproportionate role in precarious and low skilled, low paid and low valued jobs.  There needs to be a political commitment on redistributing resources towards low paid women's jobs and sectors.
The concentration of women at the very bottom of global supply chains, where regulations are likely to be the weakest and the competitive pressures the strongest, also contributes to the gender pay gap. Global framework agreements with multinational companies can play an important role in improving working conditions as well as negotiations to set national level living wages or sector specific minimum wages. The ACT process will also play a key role in raising women's salaries in the supply chain.