15 September, 2020Taiwanese-owned FTM Garments is taking the Amalgamated Trade Unions of Swaziland (ATUSWA) to court over alleged loss of production for four days and damages to property following a picket two years ago. The union says the lawsuit is an attempt to weaken the union.
ATUSWA, affiliated to IndustriALL Global Union, says it will challenge the claims that are meant to bankrupt the union and that employers are using this strategy to waste union resources through legal fees. The union argues that employers' reasoning is that less money for the union means poor service to members and that a weak union will then lead to members becoming disgruntled with the union.
Wander Mkhonza, ATUSWA general secretary says:
"This is a classic case of union busting. Employers in the textile and garment sector are taking the legal route not because they seek redress in the courts but simply to frustrate unions and force them to incur huge legal fees.

"The employers are not even worried about whether they will win the cases; they simply go to court because they have the money for cases that drag forever fully aware that unions will lose financially in long court battles."
In August 2018, ATUSWA, met with its members at Zheng Yong, Nhlangano, to decide on whether to go-ahead with a proposed strike action on living wages following a dispute with the employer. The meeting attracted thousands of workers from other factories.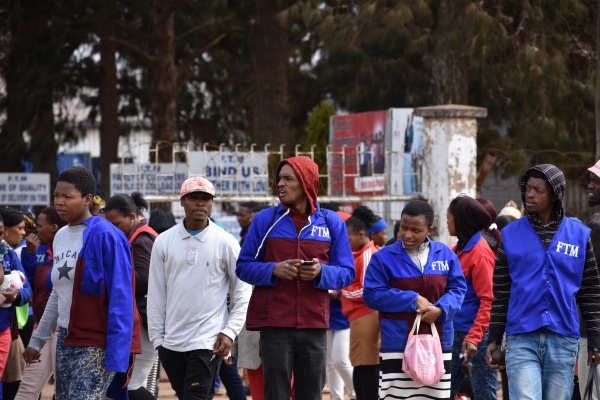 However, workers opted for negotiations through the collective agreement that the union had with Zheng Yong. Living wages being one of the main grievances of workers in the textile and garment sector who are paid E1800 per month (US$108). The union is campaigning for a minimum living wage of E3500 (US$210).
When the workers went back to work after the meeting, the Zheng Yong management had locked the gates incensing the workers who then picketed, with workers from FTM garments and other factories joining in the action. The police worsened the tense situation by firing teargas into workers who had gathered, sparking the demonstrations.
Christina Hajagos-Clausen, IndustriALL director for the textile and garment industry says:
"Factory owners should strive to build better industrial relations with trade unions and not plot to destroy them. Taking the union to court on false charges is an act of bad faith by FTM Garments."